Hello Friends,
I wanted to pop on to tell you about the amazing Starter Kit Sale we have at Stampin Up!
Sign up to be a discount shopper, and you'll get the £130 Starter Kit—filled with your pick of products—for only £75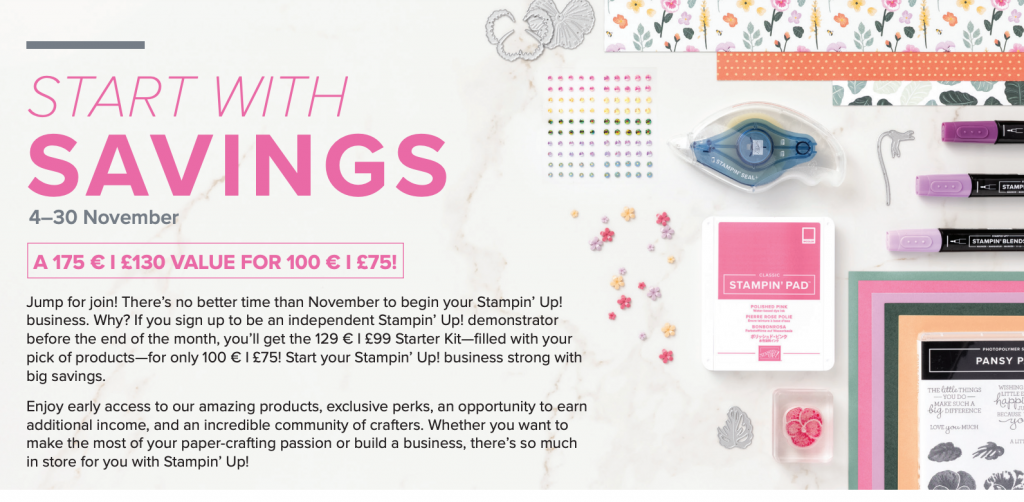 Click the Link below for purchase your kit now!
Do you regularly restock your craft collection or have a long wish list?
Do you want to be the first to get the latest and greatest Stampin' Up! supplies?
Do you enjoy the pile of perks that come with being a host and want the opportunity for even more?
If you answered "yes" to any of the questions above, the Start with Savings promotion may be your prefect time to join Stampin' Up! Instead of the standard Starter Kit—which is already a steal of a deal—aspiring demonstrators can snatch up a completely custom Starter Kit for an unbeatable bargain!
Plus, when you join now, you'll enjoy early access to the upcoming January-June Mini Catalog! Of course, being a demo is about more than our amazing products, exclusive perks, and opportunity to earn additional income – the biggest perk is the incredible community of crafters you become a part of. Whether you join my team to make the most of your papercrafting passion or build a business, there's so much in store for you with Stampin' Up! I'm here to answer your questions!
It's a fantastic time to take advantage of the starter kit.
Seriously, if you're thinking you have to do some big thing to buy the starter kit, you don't. You simply choose £130 in product and pay just £75 and shipping is free on the kit. That is £55 in completely FREE product.
This offer is only good November 4 – November 30!
YOU GET UP TO £130 in products of YOUR choice (that's £55 in FREE product) for just £75.
Benefits you can enjoy:
• FREE Postage to your home on your starter kit that's fully customisable.
• 20% Discount on future orders until at least January 2022.
• Pre-order opportunity for January Mini Catalogue and Sale-a-Bration 2022 offering.
• Connection with Demonstrators from around the globe.
• Support and guidance from me and from a friendly team with a Facebook Group.
• FREE Global Creative Tutorials.
• The choice to be your own best customer or build a business, the choice is entirely yours.
I WELCOME HOBBY STAMPERS to my pressure-free, resourceful and fun Stampin Fairies Community.
Great crafting ideas, prizes & friendship await!
Sign Up for the Starter Kit here!
That's enough from me today. Please let me know if you have any questions about anything, I'll be happy to help.
Want to come and watch me crafting live on facebook, you can find me HERE ..
Our new mini catalogues is live and it is filled to the brim with lots of gorgeous new goodies and something for every occasion! You will find all the products I have used today below the catalogues at the bottom of this post.
Keep Safe my Friends.
Things you should know!
If you wish to purchase any of the item please click on the product photos below.
Be sure to come find me on facebook HERE, I go live every Wednesday evening at 8.30pm for some fun crafting!
Want to join the Stampin Up! crafting community?
Join Stampin Up with me HERE to get £130 worth of product for just £99, with free shipping and amazing special demonstrator benefits. Plus two Extra Stamp Sets during Sale-a-Bration, Amazing Value!
April 2022 Host Code is YDU7VYRX be sure to this at the checkout when shopping online  HERE  and for every order between £25 and £150 I will send out a handmade card and a free gift in August.
Why not follow me on Facebook, for live videos, projects and updates HERE
Or Subscribe to me on YouTube HERE
If you wish to purchase any of the items that I have used to day, please click on the photo icons below they will take you straight to my online shop. Be sure to use this months Hostess Code for a free gift from me as a Thank You.