15% off selected papers!
Designer Series Paper Sale now on! Just wanted to pop on quickly to let you know.
We have some amazing patterned papers in our annual catalogue, and this month we are giving you 15% off selected Designer Series Papers (Patterned Papers) you can find them in my Online shop HERE.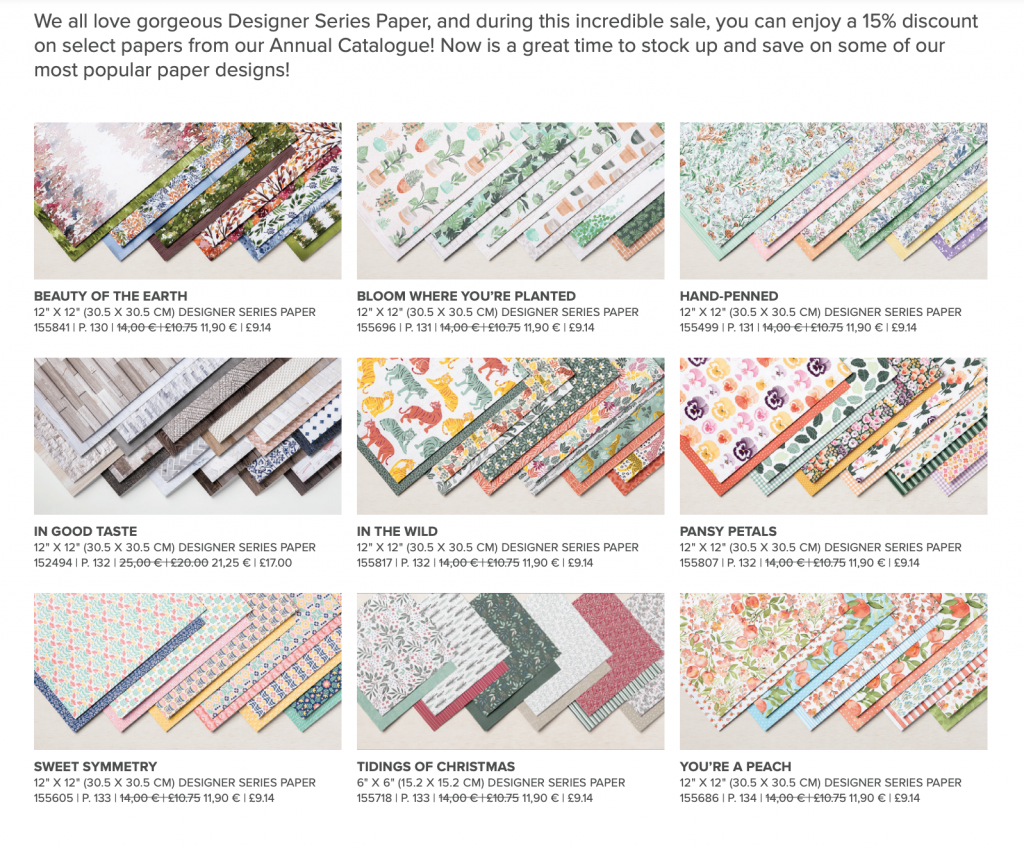 Whats your favourite?
I love the You're A Peach and Planted Where Your Bloomed Keep an eye out on the next post coming very soon, where I will be sharing a video on using both these Designer Series Papers (Patterned Papers).
Classes
Keep and eye out on the Class events tab some Online classes coming in the class tab at the top. Be sure to subscribe to my blog and newsletters for up to date offers, classes and inspiration.
you can also find me on facebook below and You Tube, all links just below.
Keep Safe my Friends.
Things you should know!
If you wish to purchase any of the item please click on the product photos below.
Be sure to come find me on facebook HERE, I go live every Wednesday evening at 8.30pm for some fun crafting!
Want to join the Stampin Up! crafting community?
Join Stampin Up with me HERE to get £130 worth of product for just £99, with free shipping and amazing special demonstrator benefits. Plus two Extra Stamp Sets during Sale-a-Bration, Amazing Value!
April 2022 Host Code is YDU7VYRX be sure to this at the checkout when shopping online  HERE  and for every order between £25 and £150 I will send out a handmade card and a free gift in August.
Why not follow me on Facebook, for live videos, projects and updates HERE
Or Subscribe to me on YouTube HERE
If you wish to purchase any of the items that I have used to day, please click on the photo icons below they will take you straight to my online shop. Be sure to use this months Hostess Code for a free gift from me as a Thank You.