Hello
Today I want to share with you a project I made on my Watch Me Wednesday Facebook Live Crafting Session, a friend had Bought some fabulous chocolate from Lidl, Oh my they are so so cute and one has a Reindeer flying in the air, Sharon asked me to make a template for packaging for it, well I had to oblige but before I could I had to run to Lidl and buy a load of them.
They are just 59p can you believe that, and just the prettiest Chocolate bar I have ever seen!
So I set to on a mission for Sharon, after several mishaps I finally designed the perfect template.
I didn't have time to design the decoration so I just winged it on the night, I knew I wanted to use a
co ordinating Stamp and Dies Set, and Wishes and Wonder Bundle, along with Beautiful Boughs was just the fit!
Now Wishes and Wonder sadly are not carrying over so after the 4th January or whilst stocks last!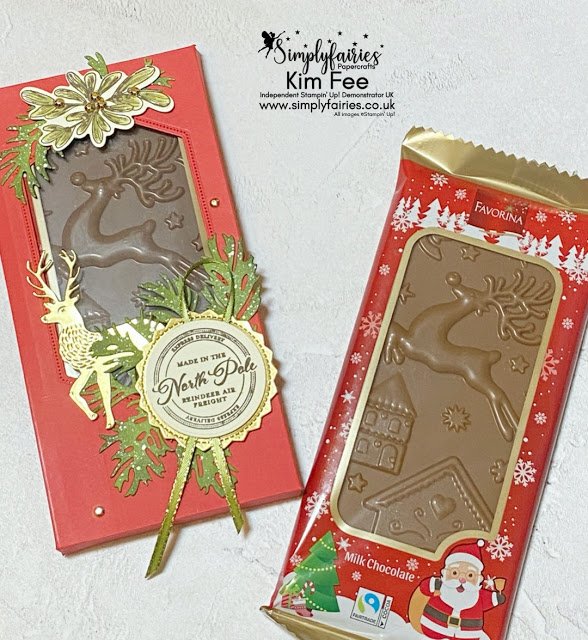 How pretty is that Chocolate bar, they had all sorts of designs this one was my favourite!
I made an aperture using the Stitched Nested Label Dies
The Mistletoe and Sentiment is stamped in Soft Suede, the Mistletoe is coloured using Old Olive Blends.
I used our new blending brushes to add shading on the bushy boughs and then used an old Wink of Stella Brush to flick white splats using Frost White Shimmer Paint!
Check out the video below on how I made this, and do pop back for a template and Measurements.
Measurements:
Cut piece of card stock 20.5cm x 21cm
Score on the 21cm side @ 1.2cm, 18cm and 19.2cm
Score on 20.5cm side @1.2cm, 9.5cm, 10.8cm and 19.3cm
If you wish to purchase any of the item please click on the product photos below.
Be sure to come find me on facebook HERE, I go live every Wednesday evening at 8.30pm for some fun crafting!
Join Stampin Up with me HERE to get £130 worth of product for just £99, with free shipping and amazing special demonstrator benefits.
November's Host Code is SWVKFUM9

be sure to use this at the checkout when shopping online HERE and for every order between £25 and £150 I will send out a handmade card and a free gift in December.
Why not follow me on Facebook, for live videos, projects and updates HERE
Or Subscribe to me on YouTube HERE
If you wish to purchase any of the items that I have used to day, please click on the photo icons below they will take you straight to my online shop. Be sure to use this months Hostess Code for a free gift from me as a Thank You.
Product List
Wishes & Wonder Bundle (English)
[155151]
[150661]
[149638]
[121694]
[152478]
[147046]
[106576]
Old Olive Classic Stampin' Pad
[147090]