Hello There,
The weather is sure changing here in the U.K, and Winter has arrived and Christmas is around the corner and will be here before we know it!
So today's project is very fitting for the season that has arrived here and I have a how to make video to accompany it so you can give it try it really is very easy.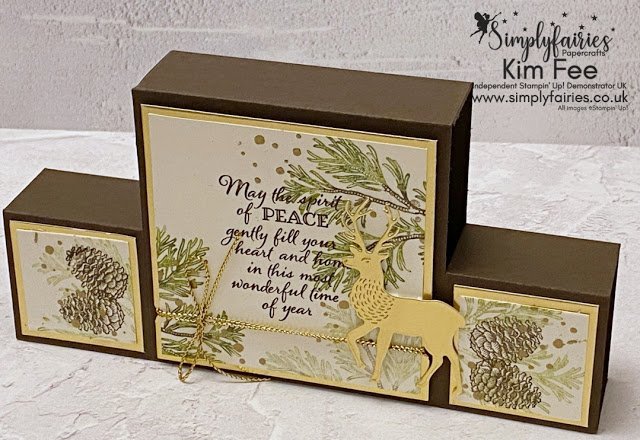 I have called it a Podium Step Box Card, and it folds flat to go into an envelope.
Whilst it is similar in style to a Baby Block Step card I didn't want the extra score lines a Baby block has, so I changed the measurements, Cutting and Scoring to my own and then it looked like an Olympic Winners Podium, Hence the name I called it.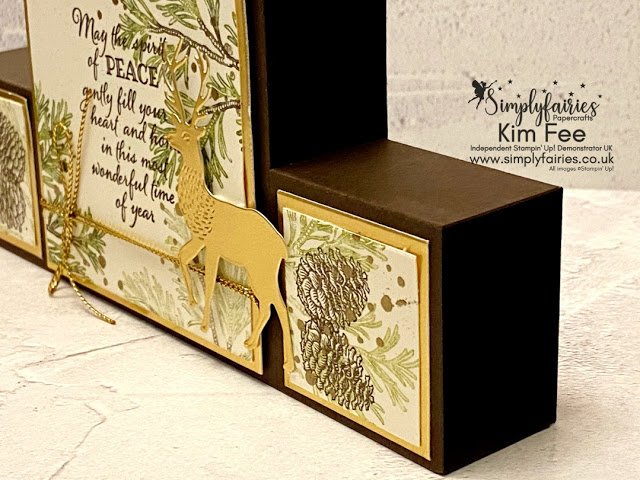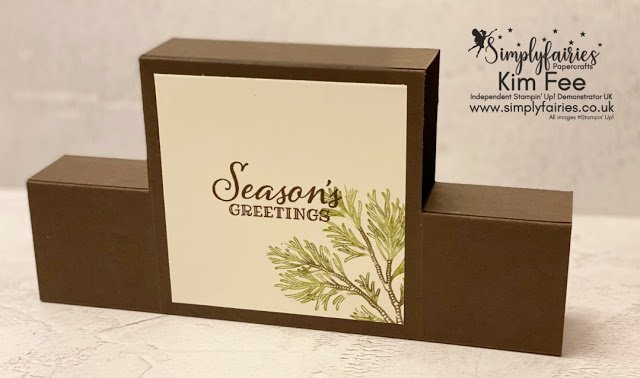 I was hosting this weeks challenge on my Stampin Up Upline's weekly Team Challenge she holds through the pandemic, It's a Blind Card Making Challenge, and I wanted to make a fun fold,… I made the first one using the Gnome Set whilst the Gnomes make for a fun wow card I wanted a more elegant Wow card this time I wanted to make a slightly different one for my video which is below.
Here is the Video and below is the Written Directions, But I do recommend you watch the video first if you are planning on making this wow card..
Podium Step Box Card
CARD BASE
2 @ 8″ x 6-1/2 ( your colour choice) Mine is Early Espresso.
Or 20.3cm x 19cm
Scoring will be in inches (sorry)
You will now need to score and you will need to score both pieces exactly the same
Score on the long side at: 2″ and 6"
Score on the short side at: 1-1/4" and 5-1/4'
Keeping on the short side take your piece along to 3-1/4 and score from top down to the FIRST score line and without moving your piece of card go to the last score line and score down.
Then turn to the long side go to the FIRST score line and cut down to the SECOND score line and then move along to the LAST score line cut down to the SECOND score line.
On the alongside 8" side fold and burnish the bottom long score line, do the same with the top score line and the the two flaps.
To adhere to each other adhere the bottom of one piece to the other keeping just below the score line so it folds properly when flat.
Then adhere the top flap to the other top flap and then do the same to the side flaps.
Now your ready to decorate as you wish.
Layers (your colour choice one is Gold Foil) or DSP choice
3-3/4" x 3-3/4" or 9.5 cm x 9.5 cm you will need 2 of these
My next colour card stock is Very Vanilla cut at
1-3/4 x 1-3/4" or 4.5 cm x 4.5 cm
Enjoy x
If you wish to purchase any of the products I have used please do click on the links below they will take you straight to the product in my online shop, be sure to use this months current Hostess Code so that I can send you a thank you gift for purchasing with me, PLEASE NOTE: when using the code please make sure you tick that I can contact you as I will not know where to send the Thank you Gift….