Hello My Crafty Friends,
Just wanted to pop by and let you know that the Stampin Up Retiring list is now out,
Lots of things going to make way for some fabulous products, as a Demonstrator I have had the pleasure of seeing the New Annual Catalogue last night, and Wow!!
There are some fabulous bargains to be had that are renting , some of the Card Kits are leaving us at some fabulous prices, here is one of them!
Just £13.20
A whopping £19.80 saving!!
Click at the bottom of post for direct links to these products!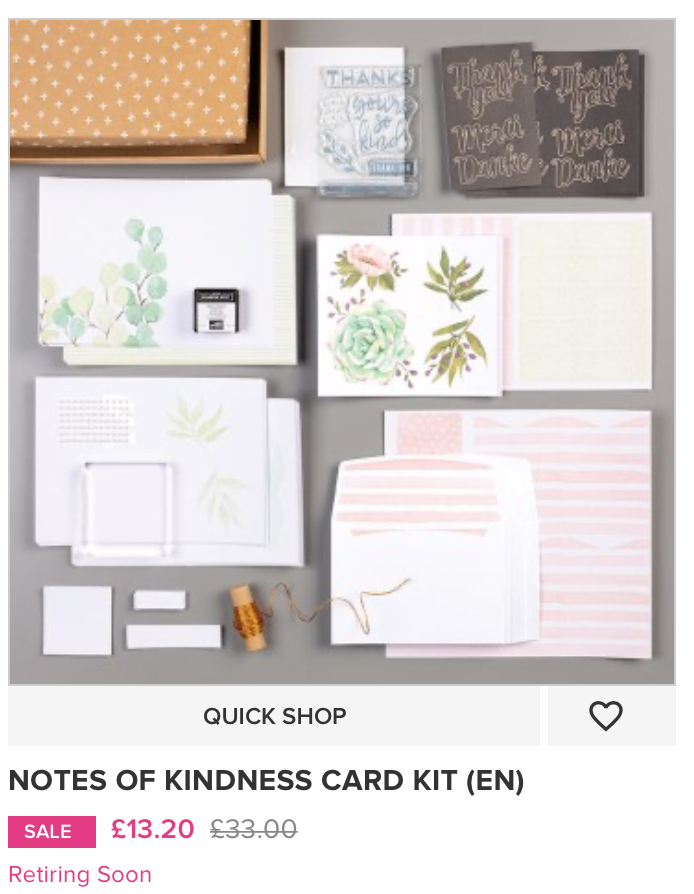 You can also get the fabulous Botanical Prints medley for just
£26 and massive savings of £39 WOW!!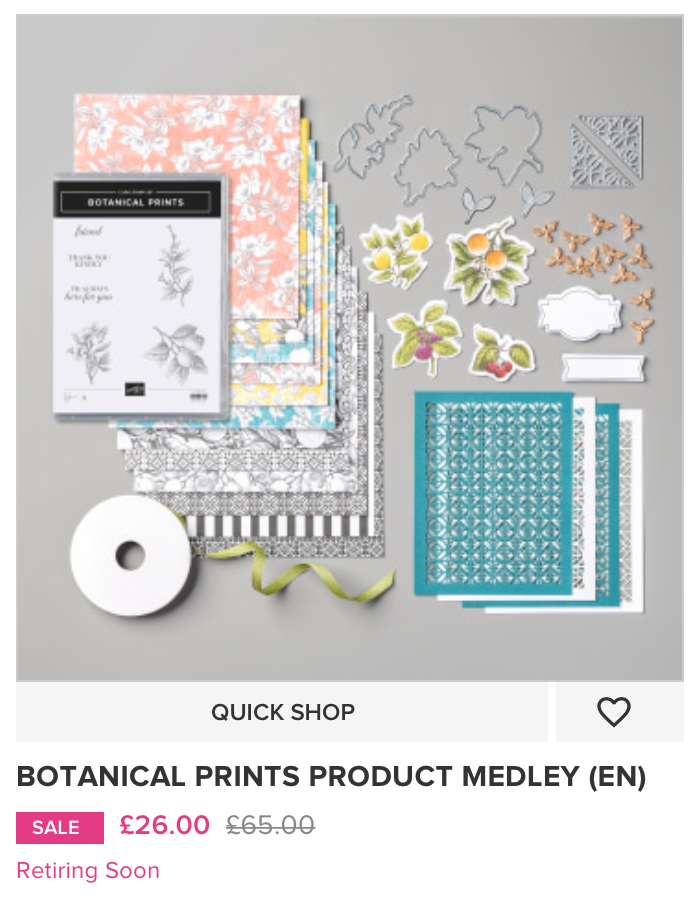 Creativity comes easy when you've got amazing coordinating products. We don't want to brag, but coordination is one of our strong points. The Botanical Prints Product Medley is a perfect example. The medley includes stamps, paper, dies, and accessories for creating cards and more. This product medley is also available in French and German.

Medley includes these exclusive products:
* Botanical Prints Cling Stamp Set—6 stamps; suggested clear blocks: c, d
* 48 sheets of 6″ x 6″ (15.2 x 15.2 cm) Designer Series Paper: 8 each of 6 double-sided designs
* 4 sheets of die-cut accents: 2 each of 2 designs
* 4 sheets 3-11/16″ x 5″ (9.4 x 12.7 cm) laser-cut overlays: 2 each of 2 designs
* Old Olive 1/4″ (6.4 mm) Twill Ribbon, 10 yards (9.1 m)
* 12 copper-coloured metal bee embellishments, 1/2″ (1.3 cm) each
* 7-piece Botanical Prints Dies (use with a die-cutting & embossing machine)

Product colours: Basic Black, copper, Crushed Curry, Old Olive, Pretty Peacock, Terracotta Tile, white
Another great buy is this Set in a Tin, for just £16.80
that's a WHOPPING £25.20 saving !
Another Great buy is this Card Kit!
Such a pretty box too!
Now half Price
For just £14
(a saving of £14)
HERE IS A LINK TO THE RETIRED PRODUCTS!
Scroll up on the right hand side of the tiles below for the link to the product you wish to purchase!