Hello my Crafty Friends,
What on earth has happened to Spring, we haven't seen the coming or going of it, and Summer should be round the corner soon, and today no Sun just hail stones here in Kent!
Jeeesssh the British Weather is sure playing up!
I have been getting ready prepping for my next retreat on the 11th, It's a repeat of last weeks one a smaller affair but exciting none the less!
Today I wanted to share with you a project using the super simple masking technique. What is masking? Well,
Masking is a basic stamping technique of covering a stamped image so that other images may be placed over it. The images stamped over the mask create a background to the protected image. Masking can seem somewhat confusing or difficult, but it is actually quite easy.
So all you need is copy paper or post it notes, stamp your desired image on to them and then fussy cut as close to the black lines as you possibly can to make a mask of that image this is important as you don't want a halo effect on your images.
You then stamp your image onto your card mat, and than place your mask over it and then stamp and again overlapping on the mask!
The stamp set I have used is a two step stamping set, so if you don't like colouring or it stresses youth no need just ink up the second part and stamp over the black image.
The card blanks are 5 x 5 inch square.
The colours I have used are Bermuda Bay, Granny Apple Green, Melon Mambo, Calypso Coral, Basic Black and Whisper White.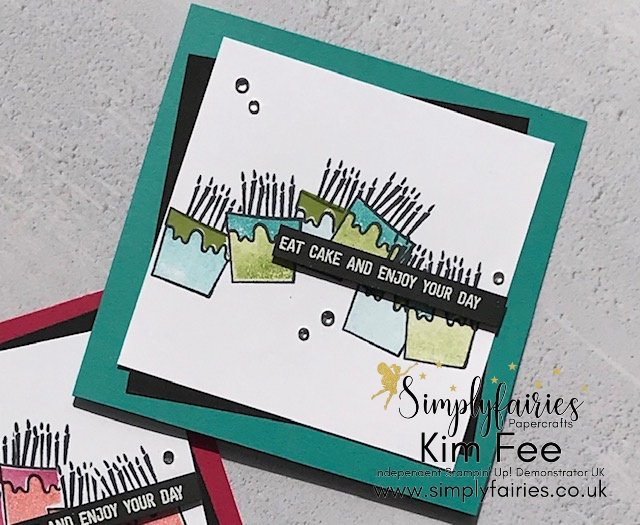 Thank you for popping by, I do hope you enjoyed this project.
If you wish to purchase any of the products I have used, You can click on the products shown below, they will take you straight to my Online Shop, If you are in the UK or Europe I would love to be your demonstrator please be sure to add me as your designated Demonstrator.
Be sure to use the hostess code on your order
MAY HOSTESS CLUB CODE
FHTYRX3A
HOSTESS CLUB CODE, ANYONE CAN JOIN.
Your Thank you gift will be posted to you early in June!