Hello my Crafty Friends,
It's blowing (pardon the pun!) a right hooley here in Kent with all the Gales coming our way, and there's me thought Spring was on it's way! But I have to say it's perfect weather for crafting, you don't want to venture out incase you get sucked up like Dorothy, and Curly hair is not a good look in such windy times either!!
For today's card I decided to use the Blow Out The candles Stamp Set by Stampin Up! and I took inspiration from or fabulous catalogue, Our designers are incredible really and I love the fact our catalogue is not just a shop window full of products , it's also full packed with inspiration using our fabulous products such a great resource for any card maker. This fab card on the left of the picture is on page 77 of our Annual Catalogue, I love the hazy background behind the cake, and made this the starting point.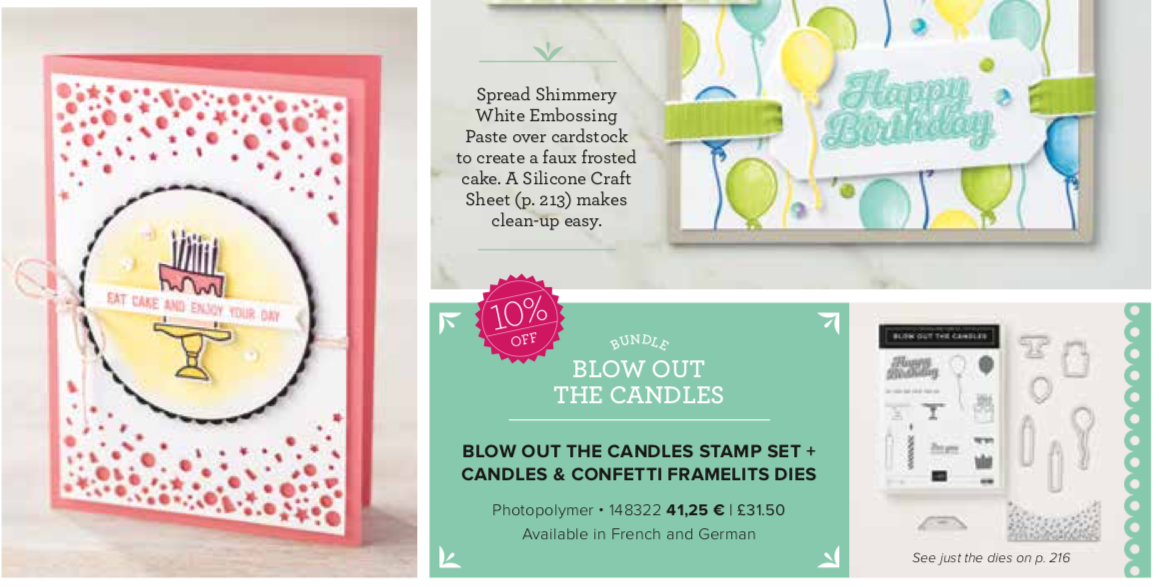 I took colour inspiration from the Gorgeous Iridescent Sequin Assortment, that was sitting on my desk at the time.
I love Mint Macron and have to confess I don't use this colour often and I am not really sure why, It's such a pretty colour!
I made two slight different designs in two opposite colour ways! But I have used just the one Stamp set for these cards. and at £14 I feel is a great price.
I used Stampin Blends to colour, But the Blow Out The candles Set is a 3 step stamping set, so I will be sharing, using those steps in another post too! I can't say if this set is carrying over to the new Annual in June, but I sure hope so, as it's perfect for all ages!
We made this card at our regular Card and Cuppa Taster Sessions at The Orpington Cafe and Record Store in Orpington High Street on the 2nd and 4th Monday Morning of the month so if your in the area and would like to come craft with us, we will be pleased to have you join us!
I love how theses turned out, Hope you enjoyed today's inspiration.
See you soon, xx
If you wish to purchase any of the products I have used, You can click on the products shown below, they will take you straight to my Online Shop, If you are in the UK or Europe I would love to be your demonstrator.
MARCH HOSTESS CLUB CODE
T3PHBSGH
HOSTESS CLUB CODE, ANYONE CAN JOIN.
If you are from the UK or Europe and wish to purchase any of the products I have used I would love you to purchase them through me, If you do decide to please be sure to use the Current Hostess Club Code (Please see photo below) in order for me to send you a Thank You product gift from me that will be posted to you in December.
Click on this link to go straight to my online shop.
https://bit.ly/2kGfl9b
If you've considered joining, it's a truly great time! For just £99, you can select £170 during sale a bration, 2/1/2019-31/3/2019 of your choice of product AND earn a 20% discount on purchases from the Annual Catalog. This is an amazing deal! If you want to join my
team, click HERE or please email me at simplyfairies@yahoo.com