Hello my Crafty Friends!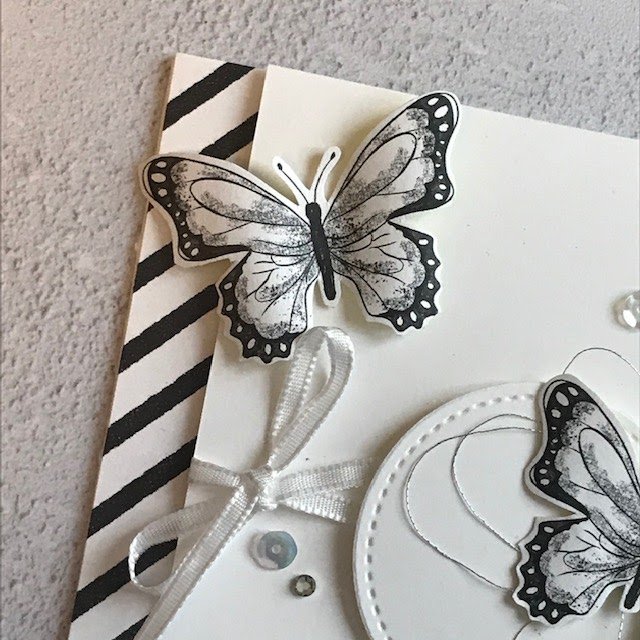 Today's share is a gorgeous Monochrome card and whilst its simple in it's design it's also elegant I feel.
I needed a card for my Step Mum's Birthday and she is into White Vintage at the minute, But I want to to add some punchiness to it too and what better way than add a splash of Black!
These botanical papers are so beautiful I will be Sad Sad Sad with a Capital S when they retire at the end of the months you can see from previous posts I am using them A LOT!
Both the stripes and the Butterflies come from the same set, One side is Black and White the other side is a Coloured Pattern, I have to confess to loving the Monochrome side better.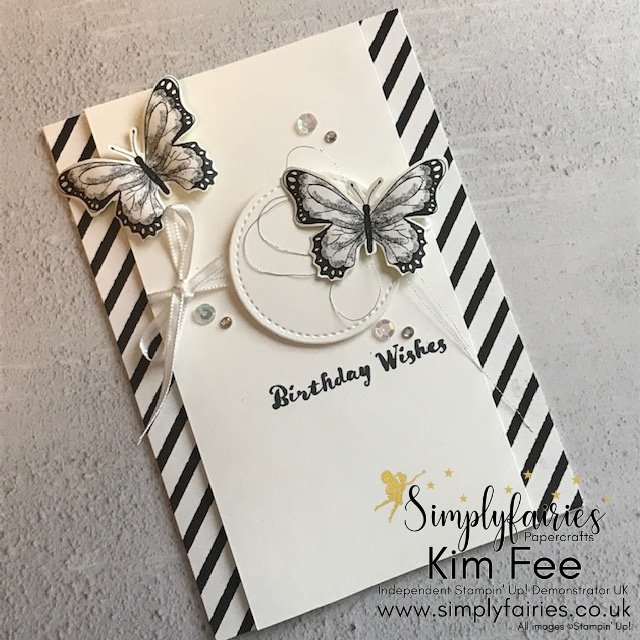 I started by cutting strips of patterned paper at 2cm or 3/4 inch wide and adhered to either side of the card blank which is C6 in size, cut from A4 size card stock , cutting in half to make A5 size 14.8 cm x 21cm and score at 10.5cm on the 21cm side for US size, 8 ½" x 5 ½", score and fold at 4 ¼".
I then cut a Whisper White piece the same length as my card blank but 8cm wide, or 3 inches. I tied some thin ribbon around the White Piece, and tied in a bow,
I then die cut a circle form the stitched Framelits, I feel the stitched Framelits add a little something around the edges, it's a pretty effect to a shape I feel. I adhered this to the card using dimensionals for added effect.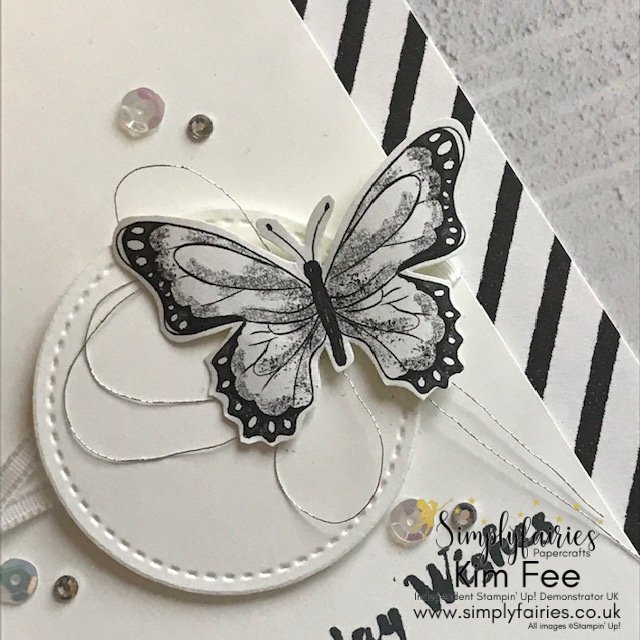 I fussy cut the butterflies but you can punch them with our co ordinating punch, which is out of stock until mid April at least, I attached these using a glue dot, behind one of them the one on the circle I added some Metallic Silver Thread.
Added my sentiment is stamped in memento Ink from the Itty Bitty Birthdays, wow this set is my go to sentiment set at the minute, I think it's a fabulous buy!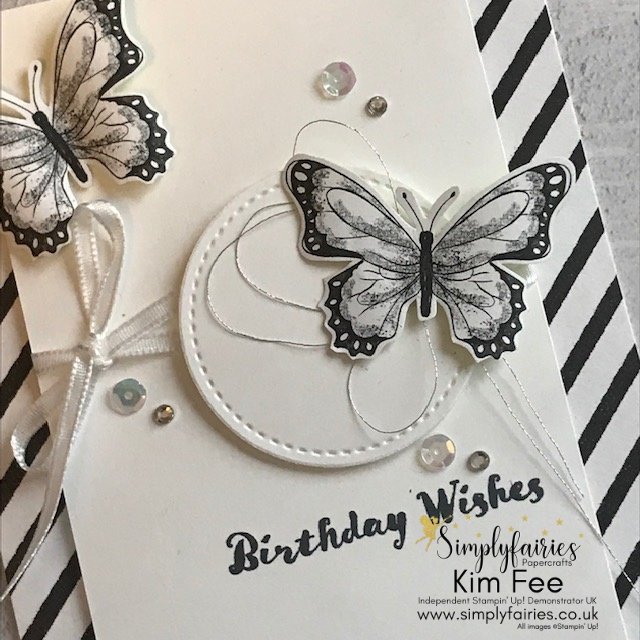 Then to finish I used Sequins from the Gingham Gala adhesive backed Sequins pack and some Rhinestones.
I am pleased to say the card was well received and now sits proudly in a frame!
Hope you like it as much as we do!
If you wish to purchase any of the products I have used, You can click on the products shown below, they will take you straight to my Online Shop, If you are in the UK or Europe I would love to be your demonstrator.
MARCH HOSTESS CLUB CODE
T3PHBSGH
HOSTESS CLUB CODE, ANYONE CAN JOIN.
If you are from the UK or Europe and wish to purchase any of the products I have used I would love you to purchase them through me, If you do decide to please be sure to use the Current Hostess Club Code (Please see photo below) in order for me to send you a Thank You product gift from me that will be posted to you in December.
Click on this link to go straight to my online shop.
https://bit.ly/2kGfl9b
If you've considered joining, it's a truly great time! For just £99, you can select £170 during sale a bration, 2/1/2019-31/3/2019 of your choice of product AND earn a 20% discount on purchases from the Annual Catalog. This is an amazing deal! If you want to join my
team, click HERE or please email me at simplyfairies@yahoo.com