Stampin' Creative
Stampin Up Spring Catalogue
Sneak Peak!
Wow it's the last ever weekend of 2018, and I don't know about you but I have eaten enough in the last week to keep me fed until the end of January, phew I am stuffed full of Christmas food, mince Pies and chocolate!!
It's also the last Stampin Creative Blog Hop of 2018 too and we have a fabulous guest blogging with us, BJ Peters I can't wait to see BJ's creation I feel we re in for a right treat!
Talking of treats I have one for you too, We have an amazing offering in the new Stampin Up Spring/Summer catalogue and of course its Sale-a-bration time too so that means FREE, lots of FREENESS going on for every £45 you spend you get to choose something Free from a select set of products, that sure is a treat isn't it…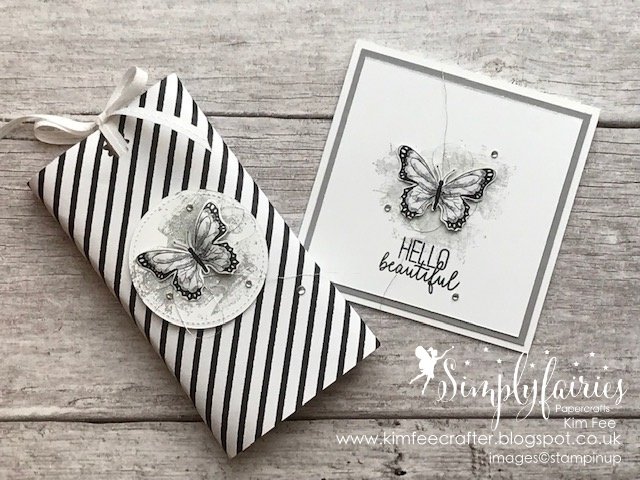 Our theme this month is a sneak peak from the new catalogue, and what better than to keep to the treat theme, the card I am sharing is a direct case from a fellow Demonstrator I just fell in love with it and whilst I only added rhinestones to the equation the rest of the design is infact cased directly from Margriet Tournier.
The butterfly is fussy cut from a sheet of the Free Patterned papers in the Sale -a- bration selection, called Botanical Butterfly Designer Series Paper. the card is a 5 x5 inch square one.
Colours used in the picture below.
I then made a matching sider wrap for some chocolate, again using another sheet of the Botanical Butterfly Papers,. The sentiments are from the co ordinating Stamp Set Butterfly Gala available for purchase in the spring Catalogue.
You can purchase the new products from the 3rd January, don't forget to use the monthly Hostess code when ordering through my online shop for a free gift from me.
Don't forget to follow on the Blog Hop the list is below your sure in for a treat!
Below is a list of products used click on the photos and they will take you straight to my online shop.
DECEMBER HOSTESS CLUB CODE
YBZEUEY9
HOSTESS CLUB CODE, ANYONE CAN JOIN.
If you are from the U.K and wish to purchase any of the products I have used I would love you to purchase them through me, If you do decide to please be sure to use the Current Hostess Club Code (Please see photo below) in order for me to send you a Thank You product gift from me that will be posted to you in December.
Click on this link to go straight to my online shop.
http://www2.stampinup.com/ECWeb/default.aspx?dbwsdemoid=5000739
If you've considered joining, it's a truly great time! For just £99, you can select £130 of your choice of product AND earn a 20% discount on purchases from the Annual Catalog. This is an amazing deal! If you want to join my
team, click HERE or please email me at simplyfairies@yahoo.com