#simplestamping
After spending the last couple of hours doing to Housework this morning, I thought I would take a quick coffee break, and join in with the #simplestampingchallenge Stampin Up! have given us.. One Stamp set, One Inkpad, and paper, a super simple design for a super quick less than 5 mins creation to let someone know I have been thinking of them!
Using the gorgeous Butterfly Gala Stamp Set from the Brand New Spring Summer catalogue coming on the 3rd January 2019.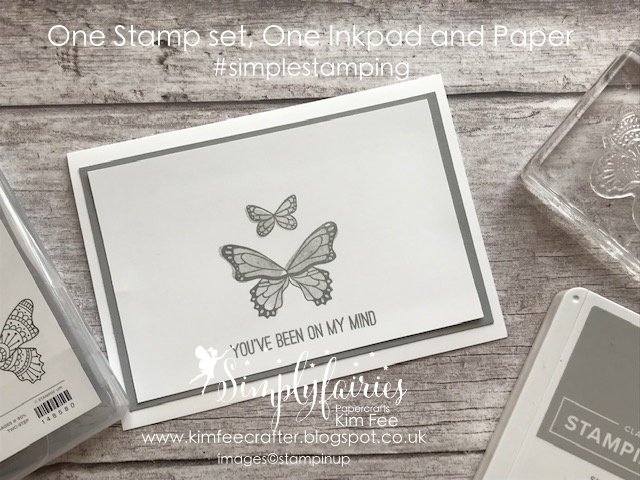 Such a super quick card, I won't lie it was super hard for me to not add any bling or other bits..
Toodle pip for now!!
Kim x
Below is a list of products used click on the photos and they will take you straight to my online shop.
DECEMBER HOSTESS CLUB CODE
YBZEUEY9
HOSTESS CLUB CODE, ANYONE CAN JOIN.
If you are from the U.K and wish to purchase any of the products I have used I would love you to purchase them through me, If you do decide to please be sure to use the Current Hostess Club Code (Please see photo below) in order for me to send you a Thank You product gift from me that will be posted to you in December.
Click on this link to go straight to my online shop.
http://www2.stampinup.com/ECWeb/default.aspx?dbwsdemoid=5000739
If you've considered joining, it's a truly great time! For just £99, you can select £130 of your choice of product AND earn a 20% discount on purchases from the Annual Catalog. This is an amazing deal! If you want to join my
team, click HERE or please email me at simplyfairies@yahoo.com