Let's celebrate with Varied Vases Stamp Set…
Hello Crafters
At the moment I am holidaying in fabulous Brighton in West Sussex in the U.K. trying to keep cool whilst touring the famous lanes perusing the little quirky shops! Having to close my eyes too all the lovely food and homemade cakes whose smells are wafting through the air, you see I am trying to cut down but t's hard when you love food like I do!!
Anyway lets get down to the business of sharing a gorgeous creation today's card is using the same layout and stamp set as Wednesday's card HERE.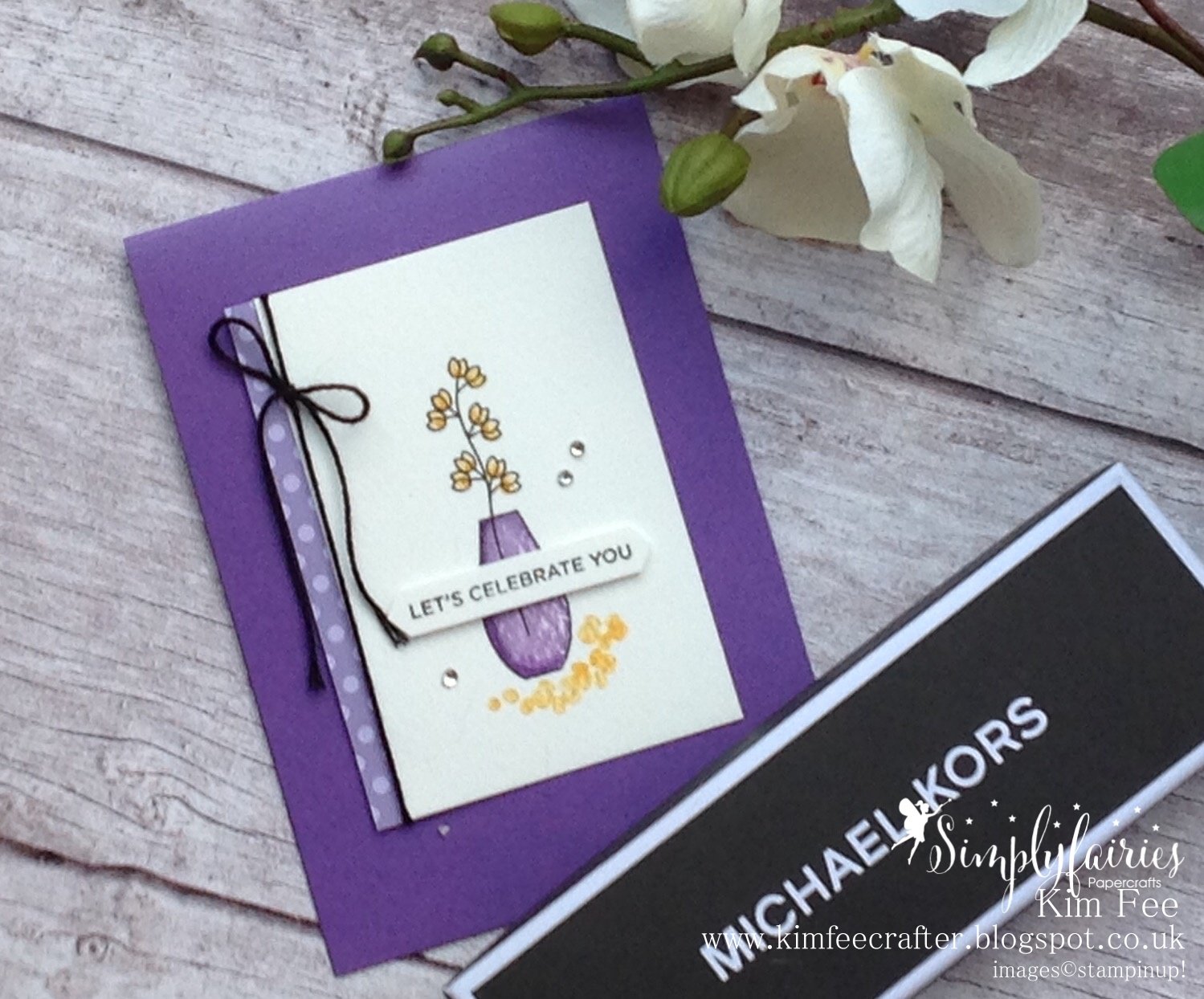 This time though its for my team member Jan B she has just crossed the 100,000 career sales mark and that's nothing to be sniffed at, so in celebration since one of her colours is purple, she has purple nails!!
I thought I would make a purple card!!
For my team members celebrations I always like to gift some other than product as a memento of their achievement for years to come.. And this time is no different, I am a Designer Girlie it must be the 80's in me I think, anyway a small Michael Kors gift this time will accompany this lovely card..
I used the same technique as the last card I posted, using the fab Stamparatus to place all the images perfectly.. I used watercolour paper as I liked the texture it gave the solid stamped bits.
The colour ways I used is So Saffron, Mango Melody Highland Heather and Gorgeous Grape Marker pens , 3 brand new colour aren't the fab… I used a strip of Subtle of Family DSP patterned paper co ordinate, and added the sentiment from the Broadway Birthday Stamp Set punched out using the Classic Label Punch.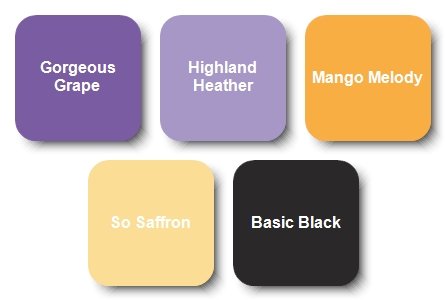 Finished of with some baker twine and rhinestone how fab…
If you wish to join my fabulous team and have fun whilst you craft and get a discount along the way then give me a shout for a chat email me at simplyfairies@yahoo.com
If you wish to purchase any of the items used in this project please click on the product photos below.
Thank you for popping by
Kim x
JUNE HOSTESS CLUB CODE
AAWPNQMX
HOSTESS CLUB CODE, ANYONE CAN JOIN.
If you are from the U.K and wish to purchase any of the products I have used I would love you to purchase them through me, If you do decide to please be sure to use the Current Hostess Club Code (Please see photo below) in order for me to send you a Thank You product gift from me that will be posted to you beginning of July.
Click on this link to go straight to my online shop.
http://www2.stampinup.com/ECWeb/default.aspx?dbwsdemoid=5000739
If you've considered joining, it's a truly great time! For just £99, you can select £130 of your choice of product AND earn a 20% discount on purchases from the Annual Catalog. This is an amazing deal! If you want to join my team, click HERE or please email me at simplyfairies@yahoo.com