April Showers with Stampin Creative Blog Hop!
Welcome to this months Stampin Creative Blog Hop, I am Kim Fee from Dartford in KENT in the UK! We have the lovely Stampin, Up! Artisan Rhoda MacPherson joining us a guest Hopper this month so your in for a real treat, ..
The challenge for us this month is April Showers, Lol very apt indeed as we have now hit after all that snow and just 2 days of basking hot sunshine a deluge of rain, Oh the British weather!!!
I was a little stumped here as I wanted to use my uninked pretty Weather Together, oh that pretty umbrella, but since it's now retiring I am going with one that has carried over from the current Spring catty, a cute one too..
I have used the bring on the Sunshine image from the A Good Day Stamp Set (which is carrying over the new Annual Catalogue) and the glass of drink too!
I made a card and a set of small note cards, and I put the note cards into a small box made using the Lots to Love Box framelits which are not carrying over so if you want that die set you better hurry it won't be around for long, you can purchase in my online shop,,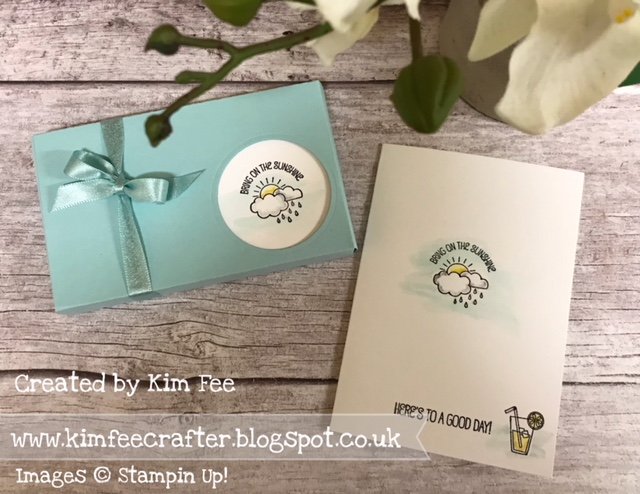 I stamped and embossed the image in Clear embossing powder and stamped another one of the image onto a post it note up by the sticky bits and made mask and then gave the image a colour wash background using Pool Party Ink..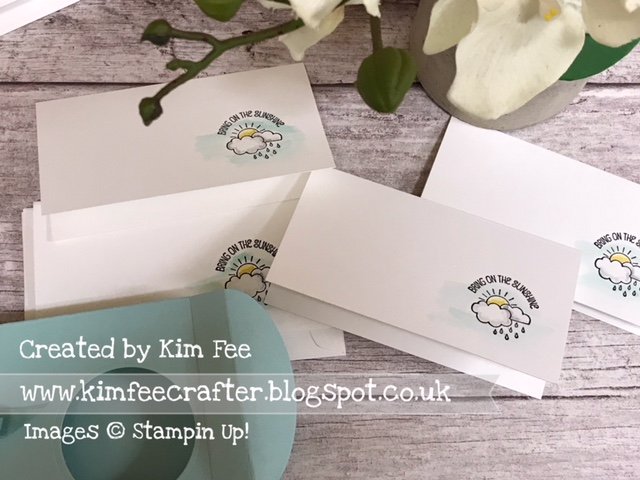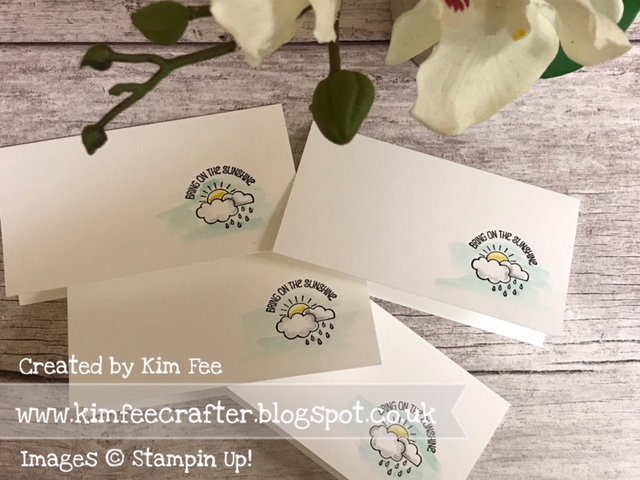 I then coloured the images with Ink Pad and Blender Pens, I love these fellas if you like to watercolour but don't have the watercolour papers or your not keen on your results with water you can get the same effect with the blender pens and you get 3 in a packet but they can be used with various colours you just scribble them clean, they will stain but they will be clean once you have scribbled previous ink off,.. Finish off with a piece of Pool Party Shimmer Ribbon tied in a bow!
Don't forget to hop along to the next blog check out the list below, some fabulous inspiration is awaiting you….
In the meantime if you wish to purchase any of these items please visit my shop in the link below….
Thanks for popping by I really do appreciate you taking the time in doing so.
APRIL HOSTESS CLUB CODE
S7F3R3HD
HOSTESS CLUB CODE, ANYONE CAN JOIN.
If you are from the U.K and wish to purchase any of the products I have used I would love you to purchase them through me, If you do decide to please be sure to use the Current Hostess Club Code (Please see photo below) in order for me to send you a Thank You product gift from me that will be posted to you beginning of May.
Click on this link to go straight to my online shop.
http://www2.stampinup.com/ECWeb/default.aspx?dbwsdemoid=5000739