Beautiful Day, Team Training Swap Card……. Stampin Up!
Hello there,
Just a flying visit from me today, if you pardon the pun the card I am sharing today is Butterfly one..
I am sharing my Team training swap, my team and I get together and join my wider team my uplines team for training events, its a fabulous day chatting crafting and a tad of training in the mix, I love that my team get to meet others in the wider circle whilst I get to see my upline Natalie and her team members the Stampin Stars.
I used the Beautiful Day Stamp Set , I love this simple stamp set, It's big and bold and deserves bold colours, I love the colours I chose, Lemon Lime Twist, Bermuda Bay and a Pop of Black..
I used watercolour paper to stamp the image onto in Basic Black Archival, now this ink is fast drying and especially on watercolour paper, but I wanted it to glisten in some areas and its perfect for throwing a little Clear embossing ink and heat embossing it for that itty bitty effect when you look at the butterfly when the card is flat on the table you can barely see the embossing but when you pick it up it glistens in the light beautiful effect…
I put some ink onto a clear block and used my Waterbrush to pick up the colour I wasn't precious in the placement of ink I just scribbled madly with one colour and then with the other so that it blended together nicely, I let it dry naturally ( you can heat dry if you wish) but I just put it down and cut my card base and layers whilst it dried. Once it was dry I then placed the block with the left over ink and water straight onto the inked butterfly and that gave it extra dimension.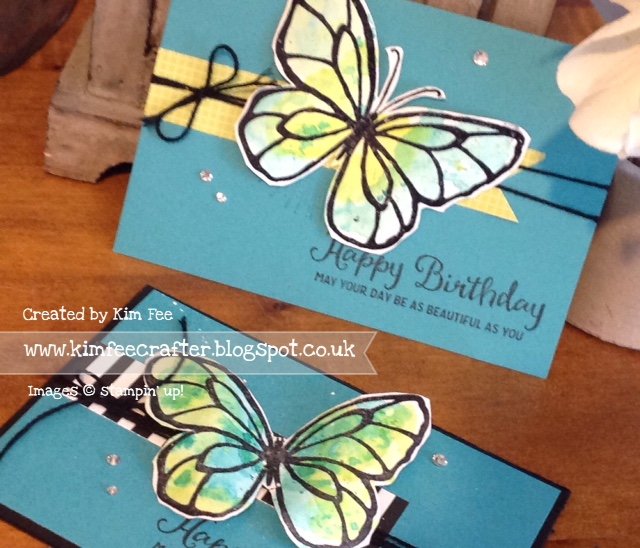 The sentiment is from the same stamp set, a strip of patterned paper in co ordinating colours, finishing the look off with some Black Bakers twine, (I love this twine) and a few rhinestones, a splash of wink of Stella for that added sparkly effect and your done, I had to make 24 of these beauties so whilst I wanted some that was in your face I had to keep it simple or it would have taken far too long, but also, wanted something easily replicatable by look rather than instruction, …
If you would like to see the fb live I did to make this card, you can view it on my facebook page here
it's called Training Swap Take Three, be warned the tale three is for a reason, I could not get my fblive to work properly so first few minutes are bouncing upside down to right way up, but if you can bear with it I think its a fun video to watch,
https://www.facebook.com/Kimfeecrafter.blogspot.co.uk/
If you would to purchase the item used for today's project in my online shop please use the Hostess code below when making your order.
FEBRUARY HOSTESS CLUB CODE
WV9ZN4KM
HOSTESS CLUB CODE, ANYONE CAN JOIN.
If you are from the U.K and wish to purchase any of the products I have used I would love you to purchase them through me, If you do decide to please be sure to use the Current Hostess Club Code (Please see photo below) in order for me to send you a Thank You product gift from me that will be posted to you beginning of March.
Click on this link to go straight to my online shop.
http://www2.stampinup.com/ECWeb/default.aspx?dbwsdemoid=5000739