Cute Bird Banter Popping Box Card.
Bird Banter what a fun cute Stamp set from the new Stampin up 2018 Spring Catalogue!
Today's card is a card I made for my dad, I did take a little video of him opening it, I think I got more excited than he did, though he was a little impressed with the creation as always, I do like to make my Dad a 3d card creation, and he keeps every one of them in a little display cabinet!!
I used the Picture Perfect patterned papers and took the colour way from this, and then as my Dad is forever feeding the birds, especially two Doves that frequent his Garden, I thought the Bird Banter stamp set was just perfect and fun too!
This is a super fun card and I started to make mine a match book box for the cube to go into and pop out of , I kept the decoration of the match box simple letting what was inside be the wow factor. I decorated the outside box using the Picture Perfect Patterned Papers.
Now the instructions for this card I found on you tube, was a little confusing at first as you can't really see where they are cutting on the score lines but I got there in the end, I only made the one so it was all good in the end. Maybe next time I will make a template for myself to keep.
The Gold Celebrate is a die cut from the New Sale a bration freebie Die Set that has 3 dies in it that can be earned when you spend £90 in one order.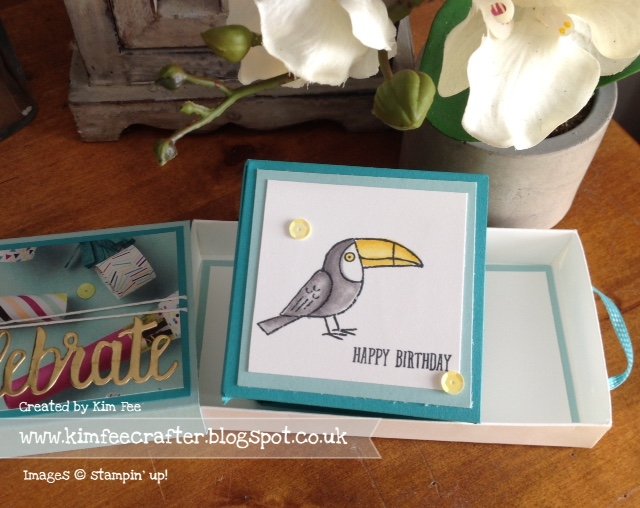 I stamped the images in Momento Black ink and then coloured using our fabulous Blends. The box is constructed using an elastic band, and I got a load of these in one packet from Poundland.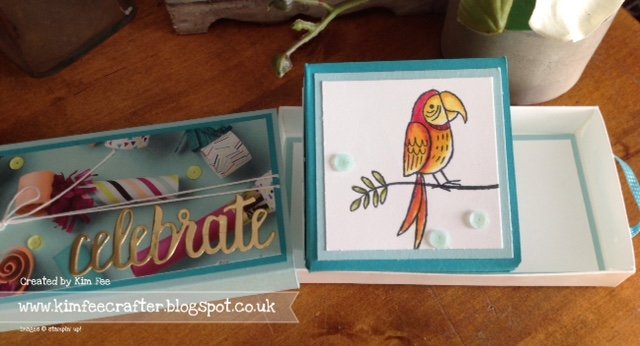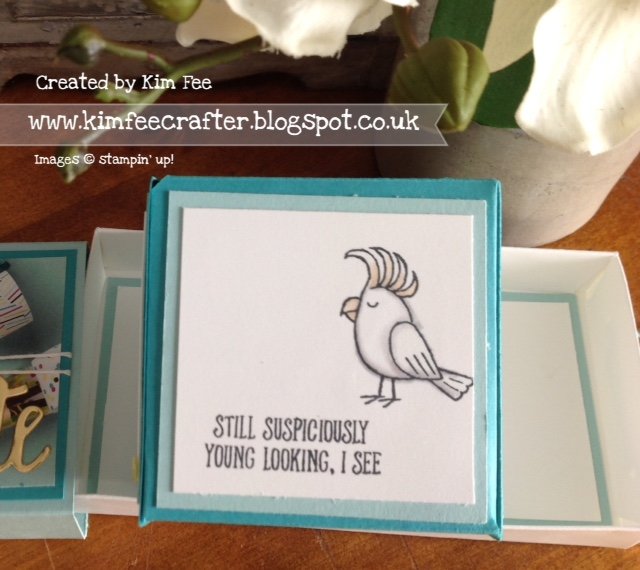 The colour way was dictated by the patterned papers I used and are Soft Sky and Bermuda bay.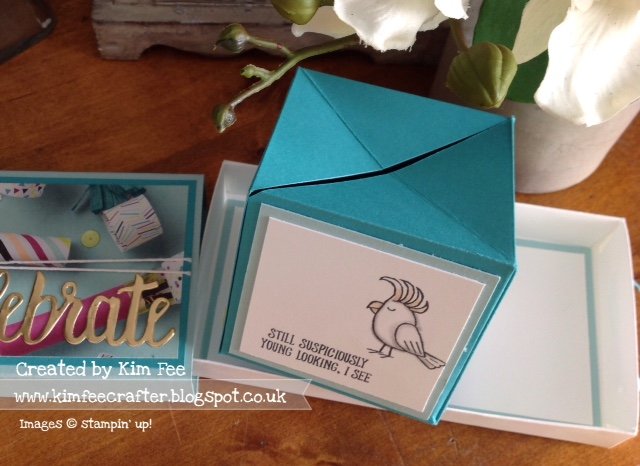 Here is a little action video I have managed to make fairly badly out of focus I admit, but new hard drive means no notes I added to a know how list I had but here it is anyway,,,
You can purchase any of these items form my online shop HERE, be sure to use the Hostess Club Code to get your free gift from me a week into next month when I cash the rewards in. Thats on top of any free items you may earn when making your order, as there is some smashing products to be had each time you spend £45. There are two levels of Sale-a-bration this year spend £45 and receive one item form a selection, or spend £90 and get a choice of two items from level 1 selection or 1 item from level 2 selection which can be a die set, how fab is that!!
If you would like to purchase any of the items I have used please visit my shop using the link below.
JANUARY HOSTESS CLUB CODE
HM64V9BF
HOSTESS CLUB CODE, ANYONE CAN JOIN.
If you are from the U.K and wish to purchase any of the products I have used I would love you to purchase them through me, If you do decide to please be sure to use the Current Hostess Club Code (Please see photo below) in order for me to send you a Thank You product gift from Me.
Click on this link to go straight to my online shop.
http://www2.stampinup.com/ECWeb/default.aspx?dbwsdemoid=5000739