Stampin' Up! Demonstrator Kim Fee
Stampin Up Onstage 2017 Team Gifts!!
Wow what an Onstage that was, I am overwhelmed truly I am, not only am I proud to announce that one of my downline team members Emma Goddard has earned Artisan Design Team Member, Amazing !! I also have some of my team members, Louise Sims and Jan Brown in the Top 50 in the U.K. out of thousands of Demonstrators, I also made it there myself, No.22 Wow!!!! How did that happen, I am stunned and humbled I truly am, Thank you to my amazing Team members and my wonderful Customers, I can not thank you all enough!! I had around 24 team members attend this event.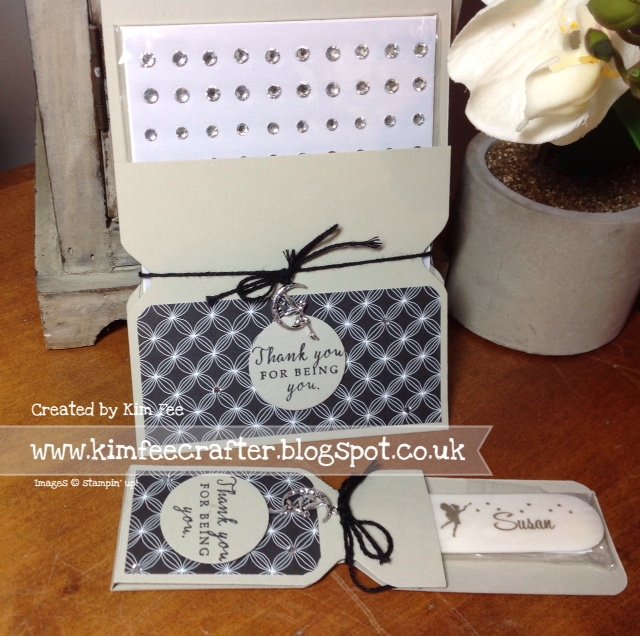 It is customary when attending Onstage for the upline to Gift those Team members that are attending too, and I like to get gifts that wow and are a little out of the box, I love to see their faces when they receive them. This year I treated all levels of my downline right down the three levels, …
My first level team members received a fabulous personalised Stampin Up! Bone Folder from me with my new Fairy Branding on it as my team name is Stampin Fairie Starlets but also their name. It didnt disappoint, all received loved them, of course I had to put into pretty packaging, and my pretty packaging I continued through out the levels, some got a pack of Rhinestone and some Faceted Gems. I just adjusted the measurements to fit.
For the packaging, I made a nail file style packet, it was a perfect fit!!
I used Sahara Sand Cardstock, Pick a Pattern pattern paper.
I used the envelope punch board to make this, and finished it off with some Black Bakers Twine with a Fairy Charm dangling. The sentiment which was just perfect comes from the Hello Friend Stamp Set in the Annual catty.
I would love you to join my fabulous team if you wish to come on board and get a discount on all your orders please contact me at simplyfairies@yahoo.com for a chat.
DECEMBER HOSTESS CLUB CODE
TKBTJDGK
HOSTESS CLUB CODE, ANYONE CAN JOIN.
If you are from the U.K and wish to purchase any of the products I have used I would love you to purchase them through me, If you do decide to please be sure to use the Current Hostess Club Code (Please see photo below) in order for me to send you a Thank You product gift from Me.
Click on this link to go straight to my online shop.
http://www2.stampinup.com/ECWeb/default.aspx?dbwsdemoid=5000739