Season Like Christmas, Stampin Up!
Hello There,
Merry Christmas to you all,
We are now in the last throws of Christmas, plenty of chocolate and sweets in the house enough to keep us going until next Christmas!
Winter seems to be properly upon us, I love Snow, the way it makes the trees Glisten, there's not been much around Dartford though I have to say, it's mainly been Rain, rain and more rain, Others it seems have had some, So maybe it might be on it's way who knows.
Today's Card I wanted to share is funnily enough all about the trees!! The stamp set being Season of Christmas is a real bargain now it's been reduced in theYear end sale, to a whopping £11.25 how fab is that, you can purchase it HERE it's a real must for your Christmas stash and real the tree is very versatile and not just for Christmas!! I made a card and matching gift box full of fudge sweets…
I loved what my Fabulous Downline team member Emma Goddard made below, I loved how she placed the trees, so I cased them and the colours Garden Green and Early Expresso, I just added Gold Baubles and a different sentiment some twine and a scrap patterned paper for added interest…
There's nothing like matching gift boxes too, just changing the orientation to suit!
Here is another look, Two of the same design, just swapping out the sentiment again to suit the recipient!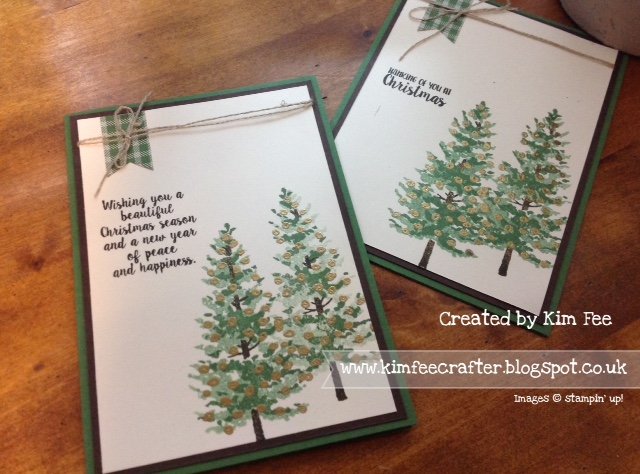 I love this set , I hope you do too!
If you would like to purchase any of the items I have used please visit my shop using the link below.
DECEMBER HOSTESS CLUB CODE
TKBTJDGK
HOSTESS CLUB CODE, ANYONE CAN JOIN.
If you are from the U.K and wish to purchase any of the products I have used I would love you to purchase them through me, If you do decide to please be sure to use the Current Hostess Club Code (Please see photo below) in order for me to send you a Thank You product gift from Me.
Click on this link to go straight to my online shop.
http://www2.stampinup.com/ECWeb/default.aspx?dbwsdemoid=5000739