Christmas Joy, It's whats inside that counts!! Stampin Up GDP#115
Today's creation is being entered into the Global Design Project challenge #115 this week HERE.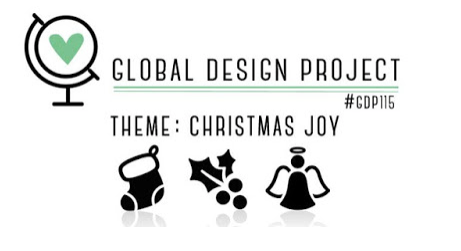 The challenge is all about what brings you joy at this time of year, here is the remit of the challenge :
"This week's theme is all about sharing the joy of Christmas. You might enjoy time with family and friends, or you might enjoy the beauty of nature. Either way, we want to see what makes you happy this time of year."
Well Hot Chocolate and anything Gingerbread brings me joy.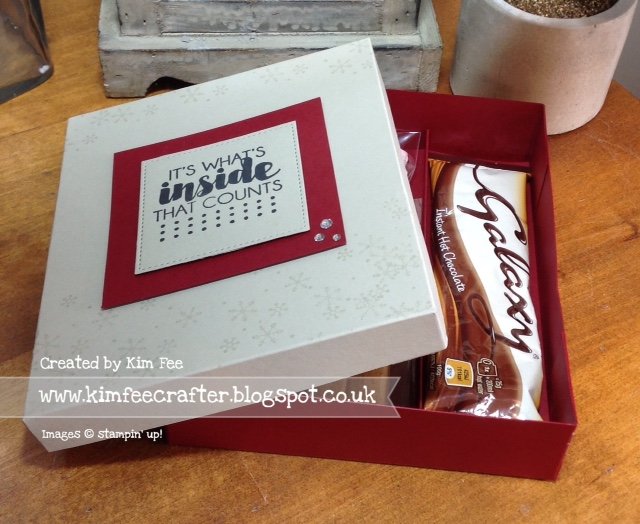 I happened across some chocolate stirrers with little Gingerbread men on them and I wanted to make a gift of them, So I took to making a box of treats to include, a sachet of Hot Chocolate, Some Marshmallows to put onto , and then of course the stirrer to stir it all, and then a Gingerbread biscuit to go with it all, Oh the Joys of Christmas something so simple as a drink and biscuits does it for me every time !!
Look at that chocolate stirrer isn't its cute!!
I used Cherry Cobbler and Sahara Sand cardstock and I kept the box super simple and the sentiment says it all the inside is what counts in this instance!! And a sentiment is all that it needed. I also stamped using versa mark ink the sprinkling of snowflakes from the same Stamp set. The Stamp Set I used is Tags and Trimmings and is just £17.00 it also co ordinates with the Trim your Stockings Thinlits Dies which you can purchase separately or with a bundle such a fabulous Bundle.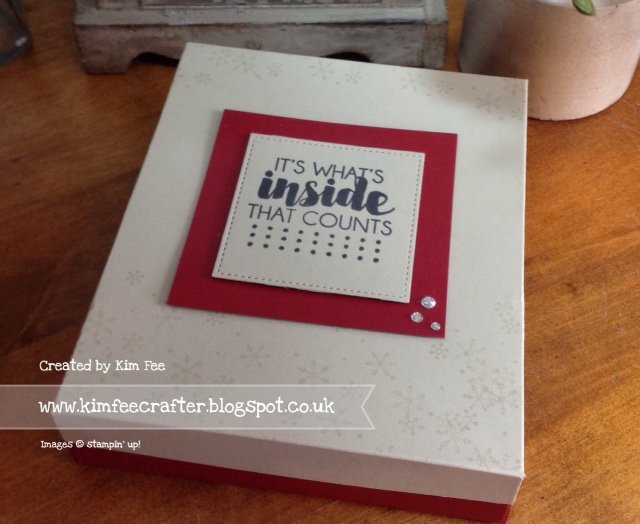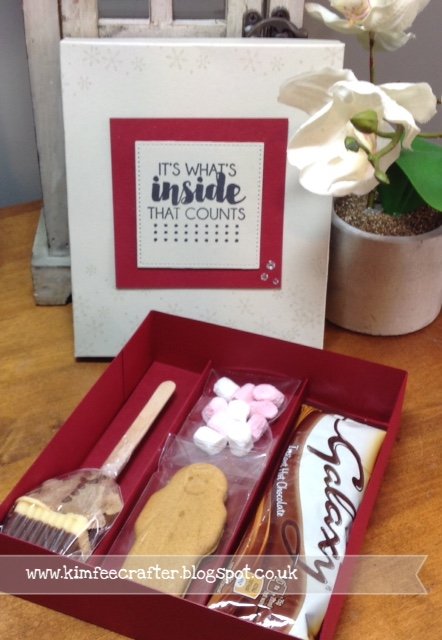 If you wish to purchase any Stampin Up! products I would be delighted to be your demonstrator please use the code below when making your order for a fabulous free gift
.
NOVEMBER HOSTESS CLUB CODE
JSS27NWU
HOSTESS CLUB CODE, ANYONE CAN JOIN.
If you are from the U.K and wish to purchase any of the products I have used I would love you to purchase them through me, If you do decide to please be sure to use the Current Hostess Club Code (Please see photo below) in order for me to send you a Thank You product gift from Me.
Click on this link to go straight to my online shop.
http://www2.stampinup.com/ECWeb/default.aspx?dbwsdemoid=5000739