Hello there,
It's been a surreal few weeks, Flying 14 hours across the world meeting up with Global Stampin Up Demo's meeting my Hero's enjoying spending quality time with team members and feeding Beautifu Elephants, Oh what a magical time thats was!!
All possible due to a hard working Team and my fabulous Customers, I thank you from the bottom of my heart, never have I had an incentive trip and Never have I had such an Amazing experience , from the magical Elephants to being utterly spoilt beyond my wildest dreams by Stampin Up..
As my plus one I took my Great Friend and downline Team Member Christine with me, Here we are.
Then I met the Amazing Robyn Cardon AKA My Pink Stamper Oh my gosh was I Star Struck we became Fast Friends as Robyn calls it..
This was just one of the tags that was on Pillows gifts every night , oh my gosh Pillow gifts made up of Products from the upcoming Winter Catty…
OH gosh these Beautiful ladies, One is Blind, One is 68 yrs old they are just amazing and I got to feed them all.. Just Magical the highlight of the trip for me, Visiting the Phuket Elephant Sanctuary is a must do trip.
This experience made me very tearful, the thought of the abuse they went through before they got rescued by this wonderful sanctuary.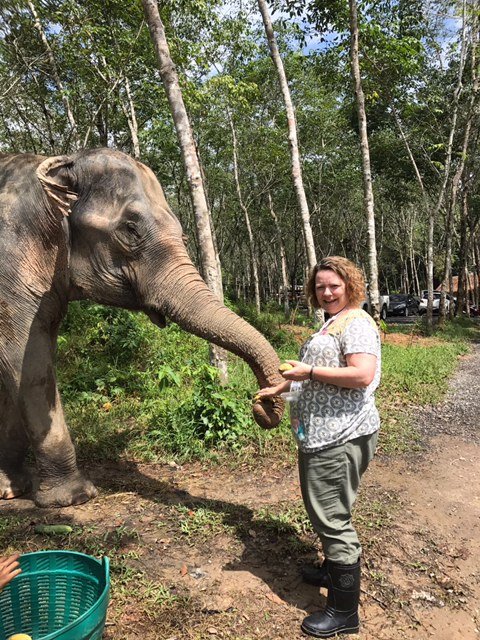 This Huge (about 10 inches) plaque greeted us on the door of our room when we checked in.
This is the U.K incentve trip Achievers minus one that did not cash her points in for the trip. there I am in the pink sat at the front next to my wonderful Upline Natalie, Two of my downline came on the trip too, Louise Sims and Jan Brown both sitting at the back left 1st left and third left.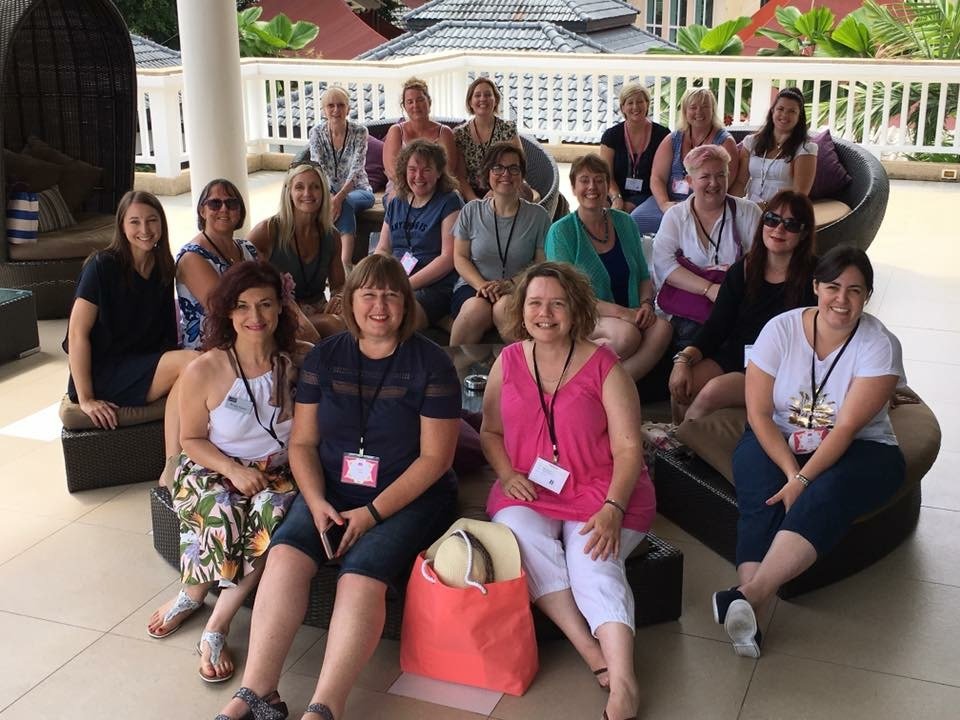 Myself and the fabulous France Martin
Myself , Chris and Lousie my fabulous friends/team members on the Opening Session all excited can you tell!! i am looking a tad tired after flying in the day before, we didnt get much sleep, lol..
Myself and the fabulous Pampered Stamper Jackie Bultje.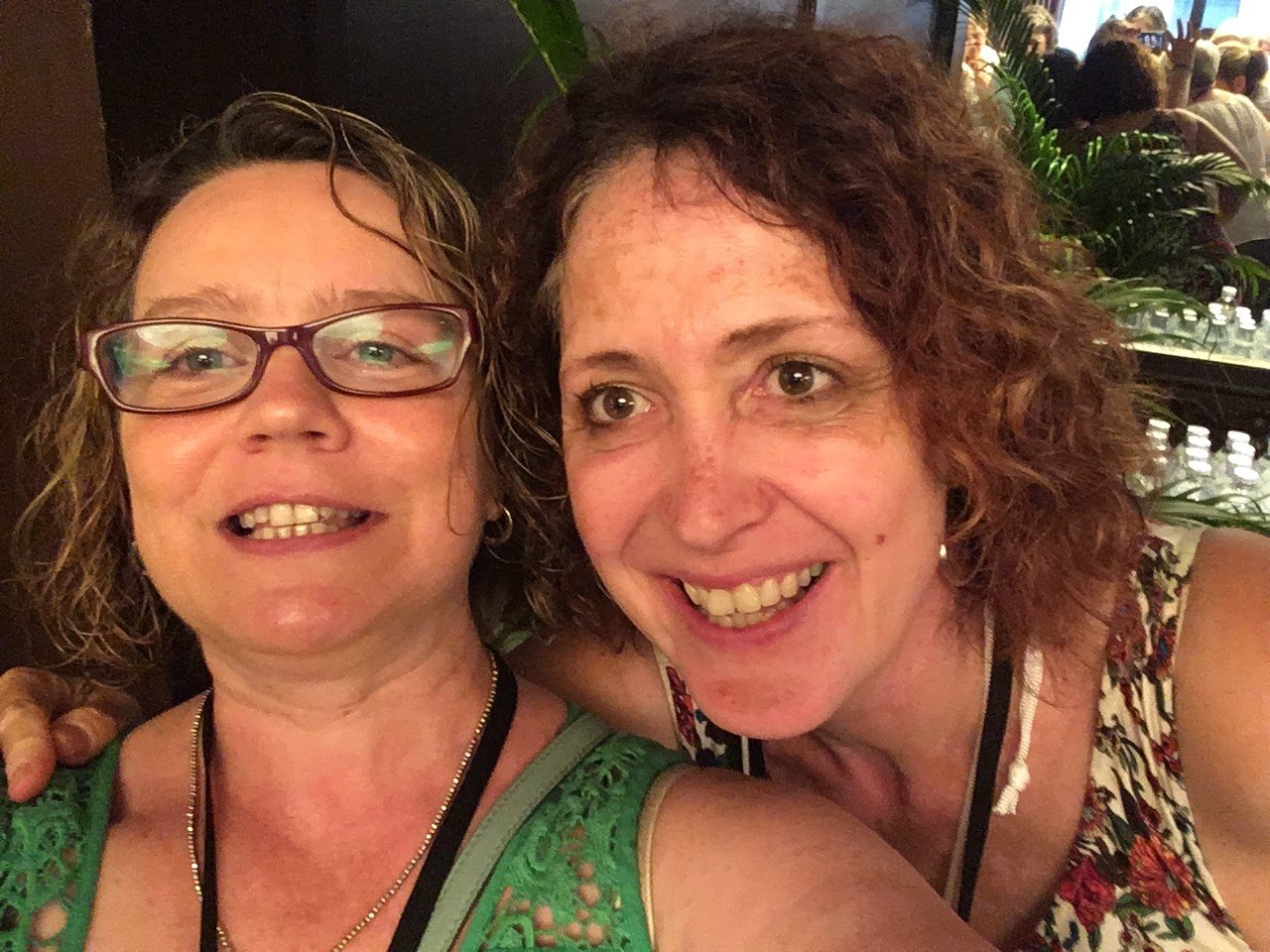 Myself and the fabulous Connie Stewart.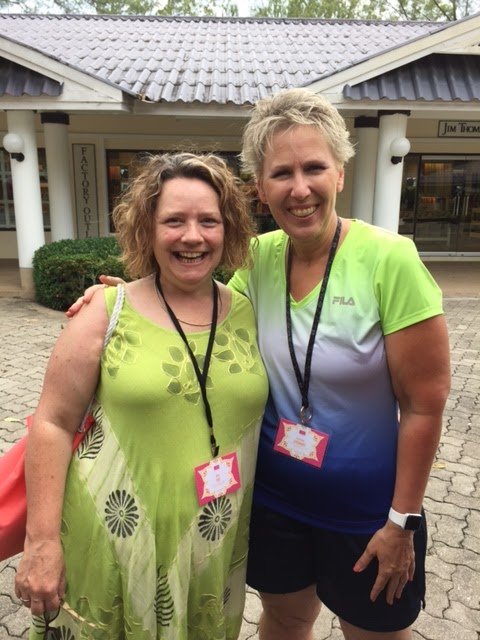 We made make n takes, saw beautiful displays of fabulous creations all using the new winter catty products, and of course came home with some fabulous swaps too from all around the world.
Here is my 3d swap, I made 26 of them.
Firstly I sourced the tiny Elephant charms, then the MDF Hearts, I then sprayed them with paint, and then stamped them using our old blendabilites as I needed the stamping to be permanent as I sprayed with the wrong paint as you do!! and Alcohol markers did just the trick and of course being SU makes they matched in colour perfectly.
I inked up the stamp set Birthday Blossoms an old set carried over to the new Annual catty. I then coloured the flowers I stamped with Blendabilities. Stamped the sentiment from the same set in Archival Basic Grey added some rhinestones, Linen Thread to hang the heart up with and also attach the cute Elephant.
Thank you for popping by.. I do have more creations to share, I have made some swaps for training, using Christmas product so I shall share that with you shortly.
In the meantime if you would like to join my fabulous team we have an amazing special offer on the Starter Kit until the end of this month. £195 for just £99, if you would like to know more just give me a shout at simplyfairies@yahoo.com.