A sneak peak card today my good friend and downline Team Member Linda Kasparian gifted me this gorgeous set for my Birthday, to say I was super excited to open this gift is an understatement.
I was really taken with this set at Onstage, I feel this flamingo is an elegant one, and I wanted to try different colours using the set, I know I know Flamingo's are Pink right!!
Well I am a rebel at heart I just had to go Blue, and Blue is Linda's colour of choice so what better way to thank her, than making a Blue Flamingo, I used two different watercolour techniques the smooshing and the Bubble Wrap technique.
The colourways I used were Pool Party, Bermuda Bay and of course the Lush Berry Burst and finished them off with the Gorgeous Glitter enamel dots.
I do have a Smooshing video albeit one I did on my phone and is not very professional at all , I did it for a fellow Demo to show her how I did a technique on a card I shared at an event. But it gives you the idea on how to Smoosh…
I will of course be doing a video on the Bubble wrap, maybe a Facebook Live and I will upload to you tube for you all.
But for now heres the card and underneath is the video.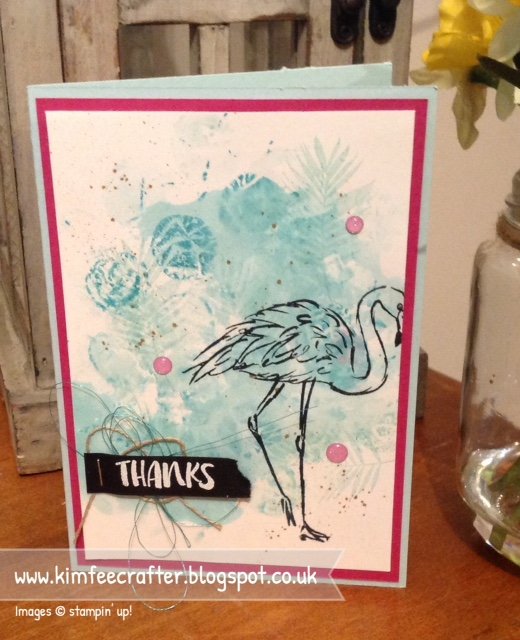 On the card above I used the leaf stamp from the same set to add a little extra interest as well as a flick of Wink of Stella, the next card I omitted this.
Smooshing Technique Video
I would love you to join my team, and there is never a better time to join getting such fabulous products at a discount, let me help you enjoy what you love and earn whilst you doing it…
Altenatively if you wish to purchase any Stampin up products from me please use the Hostess code below.
If you are from the U.K and wish to purchase any of the products I have used I would love you to purchase them through me, If you do decide to please be sure to use the Current Hostess Club Code (Please see photo below) in order for me to send you a Thank You product gift from Me. Click the link below for my online shop.
http://www.stampinup.net/esuite/home/kimfeestampinblog/blog