Hello There,
Todays card is for the Global Design Project Challenge Blog HERE, and the theme is Sparkles/Bling.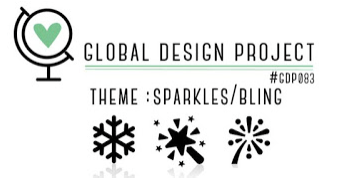 I couldn't resist both, I decided to Sneak Peak the new In Colour Lemon Lime Twist thats bling in itself, Wow what a Colour, and Bang on trend its just appeared in all the shops from Homeware to Clothes. and coupling this with another Sneak Peak called Hello Gorgeous and Stamp and Die Bundle.
I used two techniques on this card, to showcase the Ink, Watercolour Effect using watercolour Card Stock and drenching it with a WaterBrush and then taking the Ink from the Pad itself onto a Clear Block adding water making a wash and then just madly adding it to the Wet Watercolour Paper.
I then heat dried that and then took a Baby Wipe and scrunched it up and dabbed the Ink Pad and then pounced it off the Water Colour Card stock I just painted , great effect, Then I took some ink from the Block and soaked in Ink and flicked like mad all over.
I cut the Happy Birthday from the Bundle from Shimmery White as had that same Vannilary (if thats a word) shade and a touch of Sparkle in it.
Hopefully you can see the Sparkle!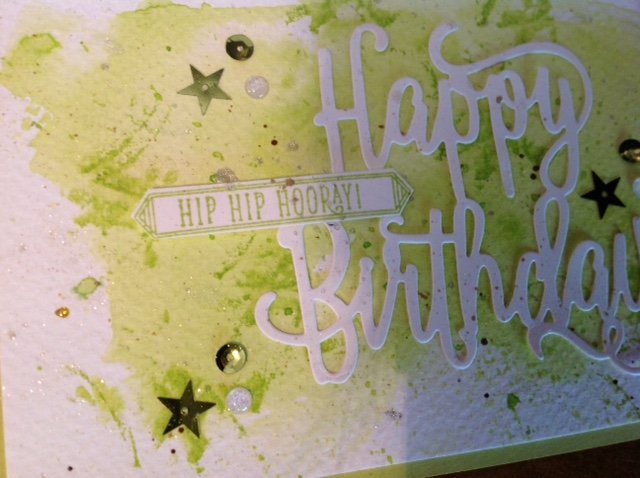 Then finished it off with Sequins that match perfectly, and another Sneak Peak Glitter enamel Dots, OMG 160 Sparkly, Adhesive backed Dots in Ombre Shades Yayyyyyyyyyy……….
And then if thats not enough Bling and Sparkle I flicked like a Mad Woman Clear and Gold Wink Of Stella, I think by the time I had finished I was covered in it.
If you would like me to do a video on this please do leave a comment..