Hello There,
Today I am sharing the Matching Box and Birthday Badge that goes with the card from my last post.
I am entering this into the Global Design Project Blog Challenge HERE and the challenge for this week is a Theme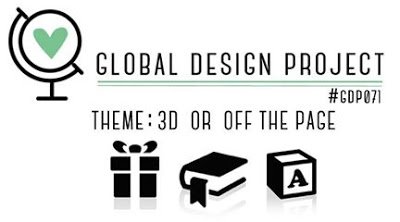 Its a simple box that houses the Badge and a bar of Chocolate or perhaps a Gift Card, I made a rosette to put on top, I was inspired to make one after seeing a card that a fellow Demo Caroline Van Der Stratten a Dutch Demo made, All you need to do is cut a piece of DSP 12 inch long by however wide you wish the rosette to be, mine is 1 &1/2 inches wide, and then score at every 1/4 inch , A score Board is best for this!
I also made a Matching Badge for the Birthday Boy to Wear! I simply added a sticky backed badge pin to the back
I used the same products as the card from the Urban Underground Suite that you can find on page 47 of the new Spring Catalogue . I did a background too as per the Card, using the Hexagon Embossing Folder in the Suite, just by swiping Basic Grey ink over the protruding part of the design and laying my Card stock over the top pressing down randomly into the ink…….
If you wish to purchase any Stampin Up products from me online in January, please be sure to use the Hostess Code below when ordering over £20 to be sure to get a Free product Thank you Gift from me,,,,