"May your Christmas Sparkle with Joy and Happiness!"
What a beautiful sentiment to put on your handmade Christmas Cards and indeed Handmade Packaging!
This is one of 8 Sentiments in the Christmas Pine Set of which has 22 stamp images in, I used this Set with the Die Set that co ordinates with it, as well as a co ordinating Embossing Folder called Pine Bough Textured.
I went for a yearly get together with some friends and we always make a little treat gift to hand out, and this year I purchased a fabulous slab of exquisite Chocolate from Aldi no less, the packaging is just like Fortnum & Mason pretty packaging in itself, But I wanted to pimp it up a bit, To be fair I would not have used the colours I did but I was governed by the Chocolate Dressing and I think they turned out rather nice..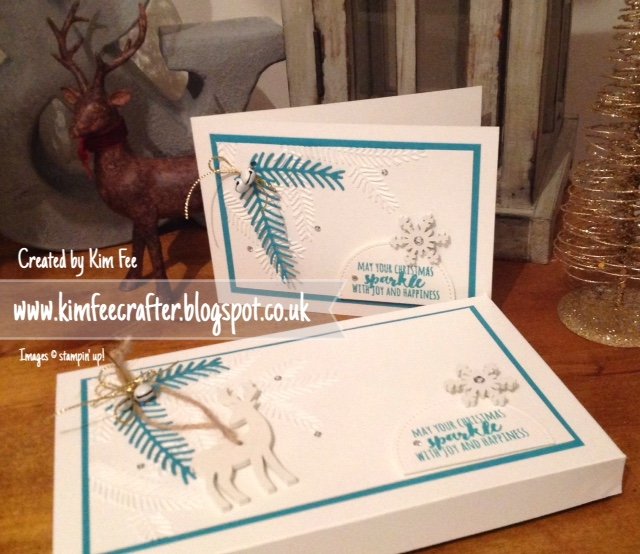 The colourways are Bermuda Bay, Whisper White and Gold…. I made a box and matching card and added some embellishments I picked up from Sainsbury, I came across some rather cute Wooden Reindeers painted in white and some wooden Snowflakes, got my tiny little white bells from a Christmas Heart decoration I just snipped the white and pulled them off.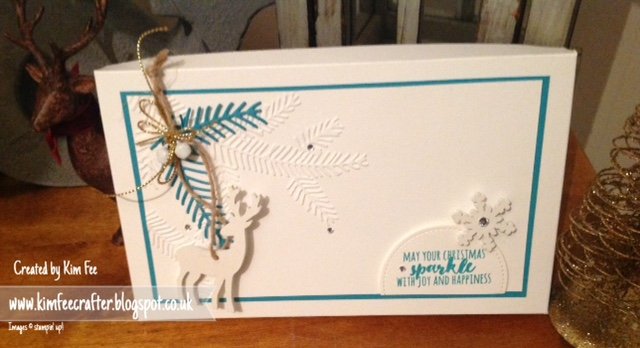 To make the box I cut a piece of Bermuda Bay 6 1/4 inches x 9 1/2 inches and scored on all side at 3/4 inch, for the lid in Whisper White the same but added 1/16th of an inch making it 9 1/2 plus 1/16th x 61/4 plus 1/16th and again scored at 3/4 inch on all sides, so that I could see some Bermuda bay , before cutting to the score lines to make tabs I trimmed 1/8th off all round.
For Centimetres I would cut bermuda Bay at 16 x 24cm, for the lid 16.3 x 24.3 and score all round at 2cm.
Hope you like as much as I do!