Hello there!
It's been a whirlwind the last few weeks, what with Allday Class events just before Stampin Up's Onstage Local event,.. Making Swaps and such…
I organised a Wow Swap with some fellow Demos, I had a fab hanging tress Decoration in mind but when I went back to purchase more Bauble Jars they had totally sold out, So stressed was'nt in int, then I happened across an article in Do Craft magazine, and my Wow swap was born.
I used the construction as a Base and off I went in creating mode, It uses the envelope punch board to make a match box, and then I covered in The This is Christmas Specialty DSP that you can get in the Anuual Catalogue, Code is 141628 this paper is thinner than noraml and you get 24 sheets, in the pack rather than the normal 12 , you get 4 each of 6 double-sided designs, .. and its not just for Christmas, one design is a beautiful sheet music.. And the Stitched with Cheer Stamp Set Code 142182.
If you wish to support me and purchase any of these items form my online shop on the right hand side, please be sure to use the Hostess club Code for a Product gift from me, Last mont was the Tin of Cards, .. Also for every £25 you spend online with me this month you will go into a draw to win a Stamp set from the upcoming Spring Catalogue, See Previous Post!!
My downline and Friend Linda Kasparian, from A pocket full of crafts HERE (please do pop over to her blog she does make beautiful stuff) Nags me to death to do videos, so we got together yesterday and did one showing you how to make my Wow Swap!! It's not the most professional of videos but hey it does what it says on the tin and thats what matter, its fun and I want it to remain that way!!
Inside I put a small slab of Salted caramel Hotel Chocolat!! Yum!!!! Check out these, and further down is the video on how to make one or two!! You will want to make more than one!!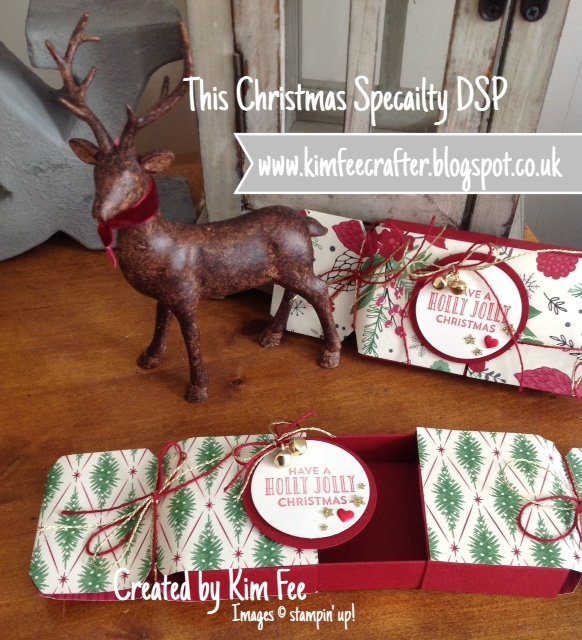 Here is the Video, please be sure to let me know if you enjoyed it….
Bye for now, xxxx