Welcome to the Stampin Creative Blog Hop,
Yes it's that time of month its Stampin Creative Blog Hop time, you may have arrived here from the Lovely Caroline HERE
This months blog hop is all about the Festive time It's Festive Frenzy !!
And it certainly is in the Fee household, making loads of Santa Pants for Paul's Disabled Club Christmas Bazaar, Why are there Blue ones, Chelsea of course, every year Paul gets me to make packaging for the sweet stall he does at the club, Last year was Curvy Keepsake Boxes, this year he went mooching on the internet and came up with Santa Stuff, he thinks I can work miracles truly he does, anyhow we came up with a solution and the Santa Pant's were born!!!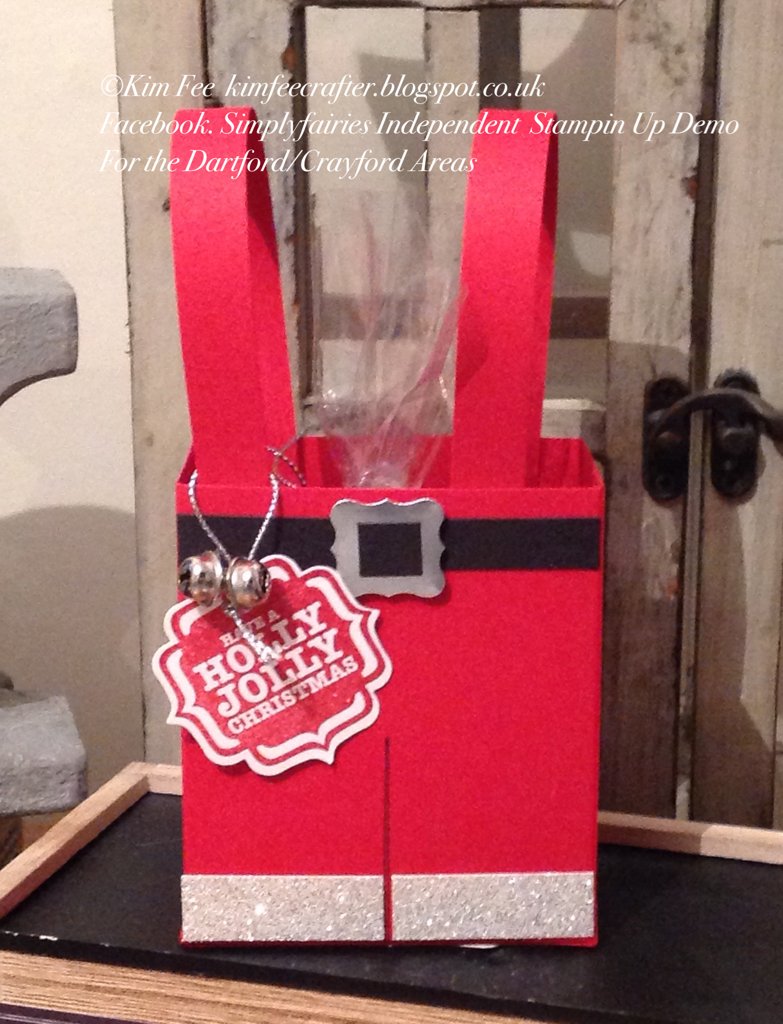 They were very easy to make, and I am trying to make a video to show how to make them, not having much luck in the techno dept, so it may be a while!!
So for now I have for now done a hand written one for you, see photos below
Santa's Pant's
Cut card stock 9 1/2 x 5 inches
score the 9 1/2 side @ 1 1/2, 4 1/2, 6 and 9 inches
score the 5 inch side @ 1 1/2
cut a strip of Black Card stock 3 " x 1 cm
Turn ups for the bottom of trousers 1 1/2 " x 1/2 , when making multiples I cut a strip 3″ wide and
then cut strips off at 1/2 segments, then cut in half, it was less time consuming this way.
Straps for Trousers 7 3/4″ x 1/2 "
I then took a marker pen and used a ruler to help me make the line in the middle of the trousers.
Please do give the Santa Pant's a try , and please don't forget to share with me, I would love to see them.
Please do pop along to the lovely Mikaela HERE and see what else awaits you in this blog hop.
Below is a list of Blog Hoppers…….
If you wish to support me and want to purchase any Stampin Up items please do be sure to use the current Hostess Club code at the top right hand of the side bar when making your purchases in my online shop.
Emily – http://stampinmermaid.blogspot.co.uk
Eimear – http://stampincolour.com/stampin-creative-blog-hop-november-blog-hop
Caroline – http://wp.me/p4UAKf-6T
Kim – http://kimfeecrafter.blogspot.co.uk/2015/11/santas-pants-stampin-creative-blog-hop.html
Mikaela https://simplyfairies.co.uk/2015/11/stampin-creative-blog-hop-festive-frenzy.html
Louise – http://stampindelight.co.uk/stampin-creative-blog-hop-festive-frenzy
Emma – http://www.coastalcrafter.com/stampin-creative-nov-blog-hop-festive-frenzy
Built for Free Using: My Stampin Blog