Hello There, I hope you are enjoying the sudden warm weather we have been having the last few days, I know I am…
The other day I said that I have been on a secret mission, whilst I would have loved to have been a bond girl, I am rather much more like Miss Money Penny!! But I loved my secret Mission, well in the end I did!!
Have you ever come across a product that is soooo NOT you!! Well when I was asked by our Stampin Up country manager Paula and her PA Kelly would I like to design some bits for the upcoming Stamping Up Creative tour I jumped at the chance!! A chance to play with products that have not yet come into the country could I not!!
When my parcel from the lovely Kelly arrived I opened it and my heart sank and I started to feel sick what on earth am I going to make with these, I got quiet tearful, I will be honest my head spun and not with ideas, for a couple of weeks I left them in their packet and looked at them now and then and thought ack what will I do with that skeleton oh my and shoved them back in their package, and then I left myself with one day to play, and I had no choice but to get focussed and ink them up after all they were going to be shown around the country to a lot of demonstrators far more talented than me so I had to put my big girl pants on and get down to it!!
Well I can tell you once I started I couldn't stop, and in the end I wondered what on earth it was that I didn't like about what was in the package oh yes that skeleton, Lol and he is on nearly all of the creations, I found him kinda cute in the end!!
Would you like to see them, YES I hear you shout get a move on!! Here they are….
Do you like my mummy cupcake, I made it last year as a sample so I do hope no one gets hungry and eats!!
I LOVE this picture so much I made two as I wanted one for my display at the Allie Pallie show I did.., I got the frame from Sainsbury's….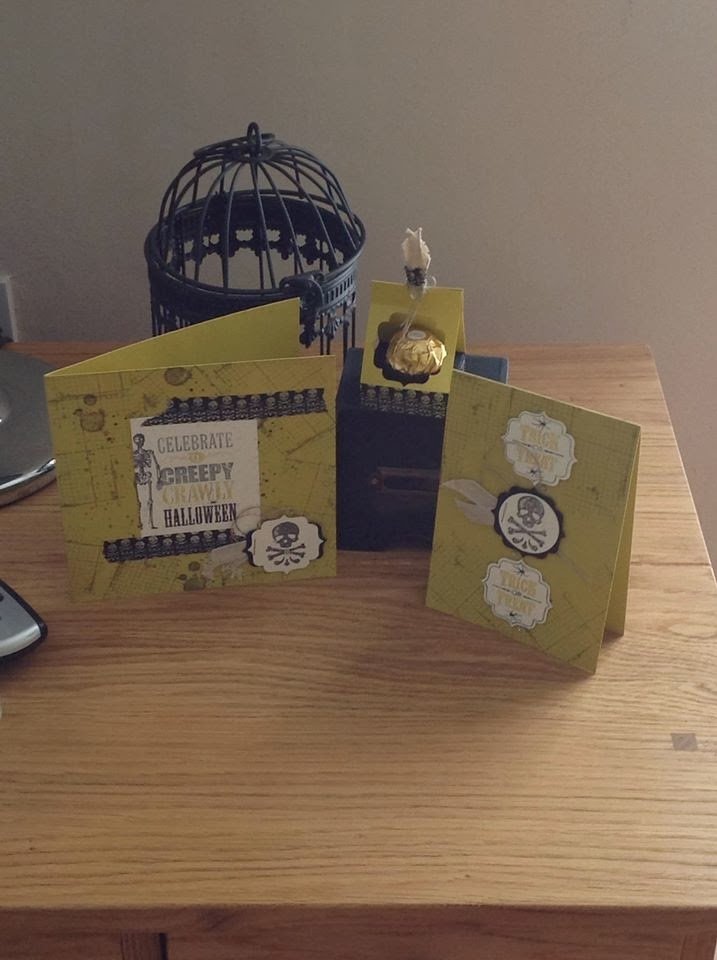 I did use extra items of my own, Gorgeous Grunge Stamp set, Sassy Salutations, Off The Grid, Tags for you, Halloween Bash and The Witches Brew DSP papers, Natural Trim, Linen Thread and Candy Dots, Tag a Bag Gift Boxes. 1 3/4 Circle Punch, Label Bracket Punch.
Colour Scheme inspired by the Witches Brew DSP, Summer Starfruit, Pumkin Pie, Basic Grey and Basic Black….