JOIN MY TEAM AND RECEIVE THIS FABULOUS SET OF BUSINESS TOOLS and more!


Well Ladies it's finally here, it's Sale a bration time all round…. There has never been a better time to purchase that Starter kit if you have a wishist as long as your arm, all for £119.00 you will get in excess of £280 worth of product in your kit and thats just for Starters JOIN MY TEAM and you will get much more!!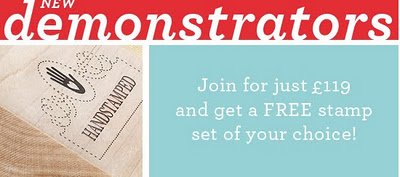 For starters you don't have to demo anything if you don't want to, Phew I hear some of you say, I have ladies that just wanted to purchase the kit for the kit and nothing more, as it can be customised to your liking!! Change the Stamp sets, change the colours of cardstock and papers even the marker pens and stamp pads to colours of your choice!!
Join my Team and you will recieve the lovely tote in the above picture and two DSP samplers worth nearly £30 and a little surprise too!! BUT thats a surprise….. BUT you will love it!! and of course the chance to grab yourself the convention bag that you will be able to purchase from our business supply's whilst stocks last, How cool is that!!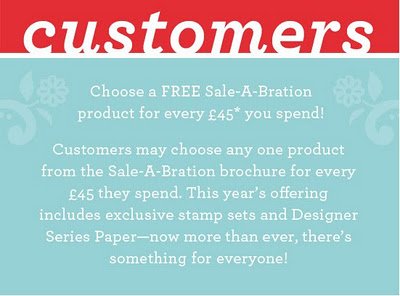 Also Sale a bration is a time for freebies for your purchases too, WOW dont you just love Stampin up… For every £45 spent you will get to choose one of five products foe free, yes every £45 spent so the more you spend the more you can choose!!
Host a party with me, and recieve even more free goodies, a great way to get together with your friends and neighbours, I will demo projects using our fabulous produccts, you and your guest will get a chance to play with these too with a free make n take, give me a shout for further infomation on simplyfairies@yahoo.com I will be happy to have a no pressure chat to you!