Hello All, Back again as promised to show another card I made for demo at training, this time a small 4 x 4 square one and rather pretty I think, using the berries design… I stamped the berry stamp in Cherry Cobbler and went over the branches with the Basic Black Marker pen, Stamped Very Vanilla Three or four times without reinking to get a lighter effect on the background….
I stamped a piece of Very Vanilla in Black using the background stamp in this set, I love this one, I duabered around the egdes with Basic Black and splteered it to bits with the spritzer…
On the card blank I used the Vintage Wallpaper embossing folder, A lovely card which would you believe didnt take me that long to make!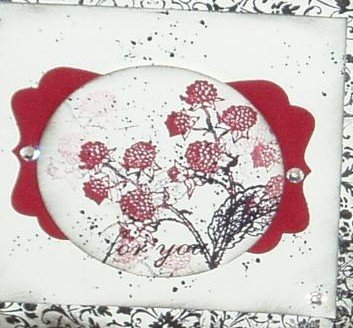 Don't forget to pop back tommorrow for another installment of Clearly for you, showing a gift packaging and the Swap card I made….
Take care all….