Today I am demoing at one of Stampin up's demo training days, I am feeling somewhat nervous, although i have demo'd before a fair few times, it's always nerve wracking to do this in front of fellow demo's….
I have a long journey over to Heathrow and have decided to go by tube instead of that dreaded M25, I just can't be late and I will stress no end if there is traffic! So being not that far from the 02 I can drop the car off there a jump a tube!
I have been asked by Kelly at Stampin up to demo a PR tool, something i would use to promote Stampin up and get bookings for workshop parties using the business basics stamp set from the catalogue…
Well I said, Phew Kelly you don't make it easy do you! A bookmark perhaps Kelly say's, .. Mmmmm let me think about that one…
I didnt want to do just any ole bookmark to pull out of me bag felt that a little boring, I wanted something a bit more out of the box so to speak, a wow I wanted, so I decided upon a bookmark type business card keyring! Something to dangle from my bag, something eye catching whilst I am out shopping! I wanted to show how all our products compliment each other, matching this matching that… And of course my conatct details on the back…..
I had infact been toying with this idea for a longtime and this has nudged me to get off me backside and do it! I really am pleased with how it came out…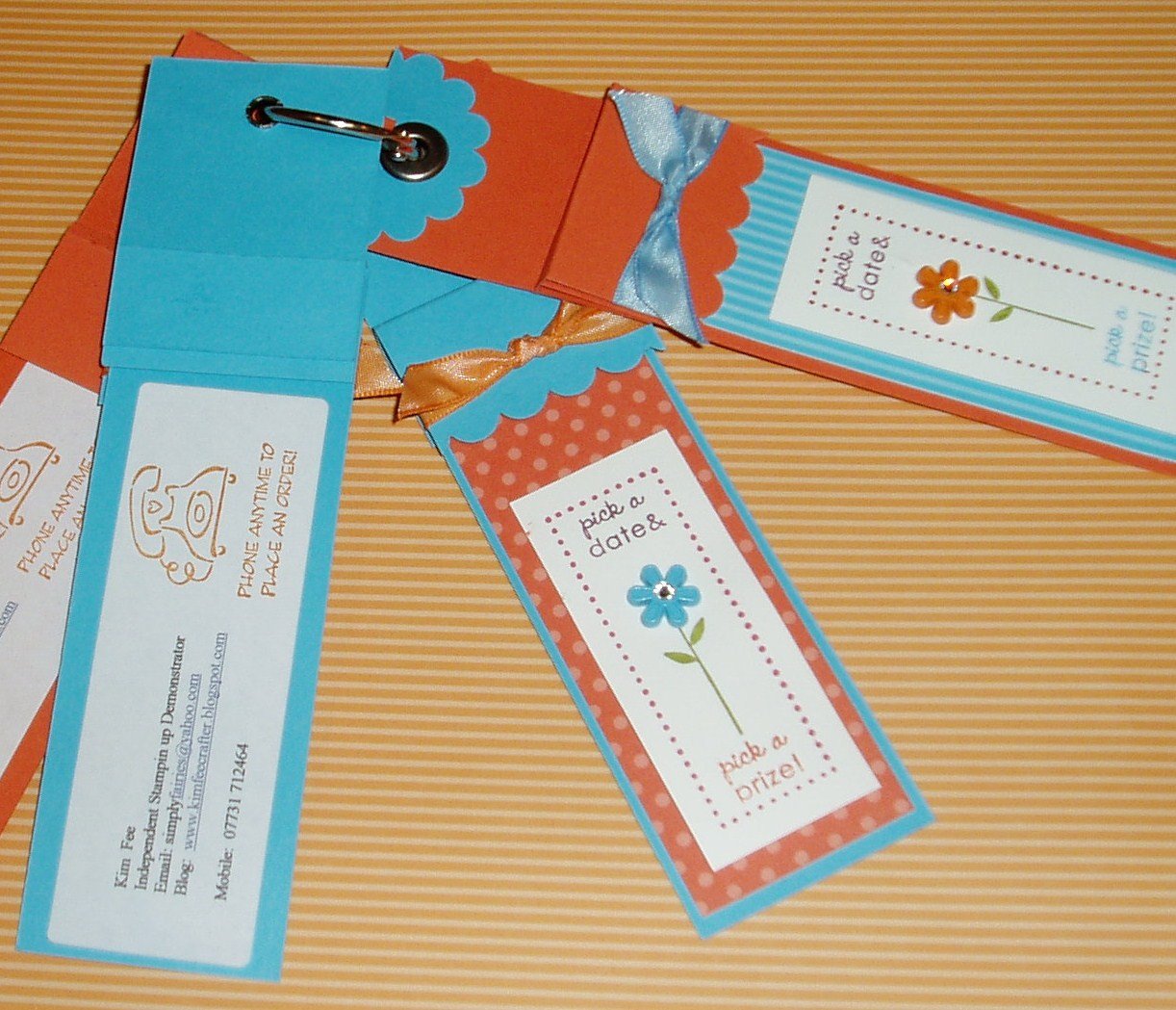 All items used are Stampin up!
Brights paper stack, Brights flower brads, taffetta ribbon, Brights marker pens, Jumbo eyelets, scallop border, scallop circle punches Tempting turquiose, Tangerine Tango, Whisper White cardstock, Rhinestones..