Hello my friends, I want to start by saying sorry for lack of postings, I lost my Nanny a few days after my Birthday, I had the week from hell that week, and dont think i will ever celebrate my birthday again, she were layed to rest on Wednesday just gone, a very moving funeral and a great loss to me, I just didnt feel like posting or making cards….
Onto a few creations now!
Over at ILWS I have joined in the Blog hop of New Colours, very exciting indeedy….
You would have come to me via Jan's fabulous blog HERE, We have a few Hops going on, so do make sure you get round them all, I think 3 are going on today…..
Firstly though I want to share with you my DT Card for Stamp with us, This weeks challenge is Get Well, there are fabbi inspiration form the team so do pop over for a gander!!
I used Bloomin with Beauty set, Lurve this set…. I was asked by some friend I do class for for ideas with vellum, and this is what we made, I stamped the image onto SU vellum cardstock this is lovely and thick , I then mad a mask of the image and placed it behind the main image and placed it onto a peice of whisper white cardstock, I then stamped the background stamp from Bloomin with beauty all over, I did this so that the words would not show through the vellum…

I then coloured the image on the vellum with the stampin write markers from behind to give a subtle effect, I attached the vellum to this whisper white piece using the tape runner behind the flowers, and then attached the ribbon, as simple as that!!
Stash used:Stamps: Bloomin with Beauty, Sincere salutations
Ink pads: Stazon Black, Close to Cocoa, stampin write markers
Card stock: Old Olive, Bashful Blue, Whisper White
Accesories: Mat Pack and Pricker tool, Taffeta Ribbon, Playground Buttons…>Onto The blog hop creations,
I was asked by my Upline Natalie do do a demo at our Stampin up training day, I was inspired by a fellow Demo Helen when I made these cards, I fell in love with a card using the technqiue called Ghosting , so thankyou Helen …
To get the effect you use Versamark ink pad and brayer your chosen colour over it before it dries, you DO NOT emboss with powder, you ink directly over it… Giving you a ghostly effect, hence the name of the technique!
Using lighter colours to brayer over your ghost works out better than the darker colours, but I like the effect all the same!!
I used the set Bird on a branch , now ladies if you like this set you must purchase it before the end of Sept, I have a feeling it wont go into the new October catty, if your anything like me I was GUTTED beyond belief when the stunning Soft Summer stamp set didnt make it into the main catty, could not for the life of me work that one out!!, So dont get caught out, get it NOW!!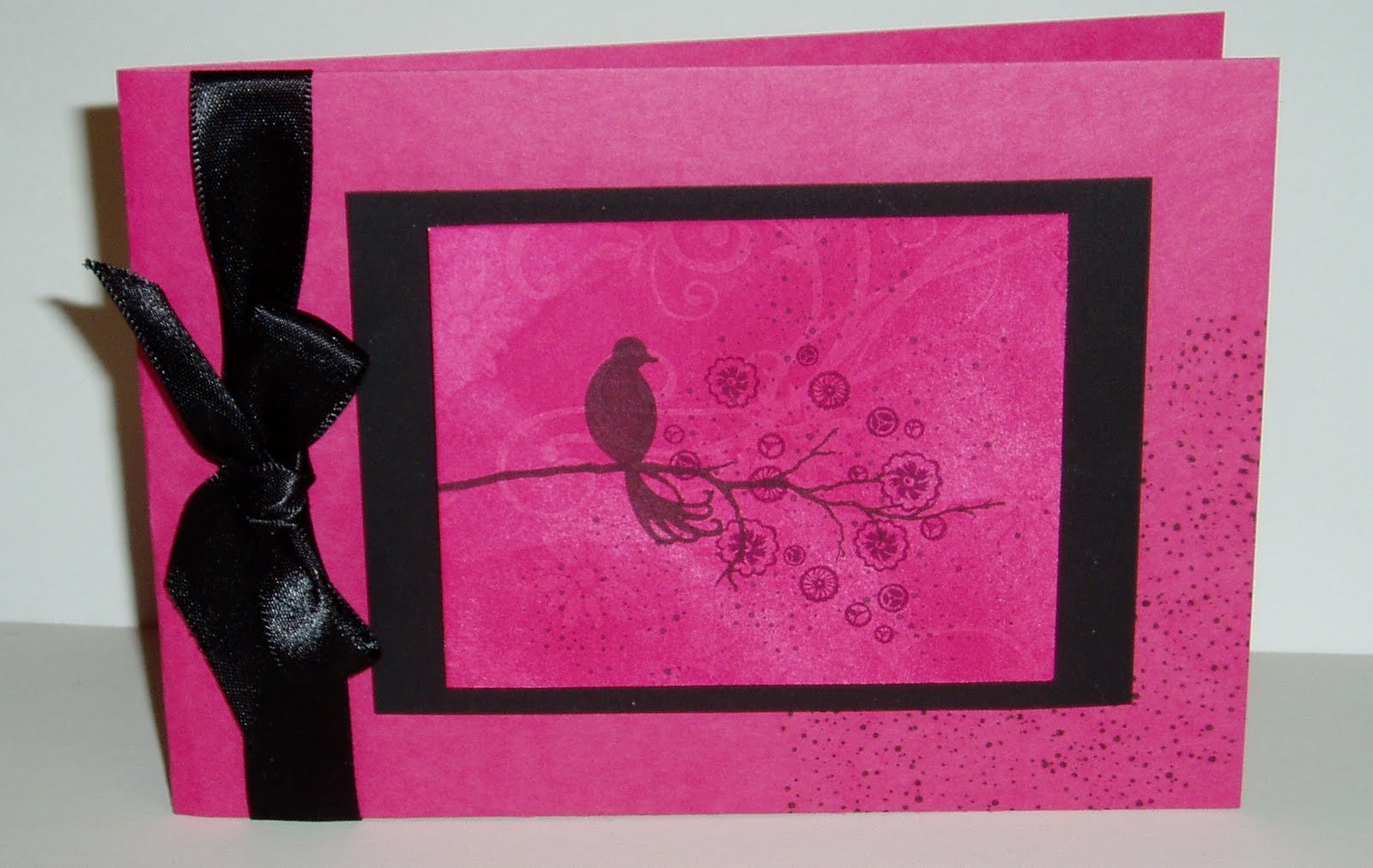 Anyone wanting to purchase this set from me, will get FREE POSTAGE cost….. this is my offer not SU's….
Stash used:
Stamp sets: Bird on a branch, Baroque Motifs, Thankyou Kindly
Cardstock: Whisper white, Rich Razzleberry, Melon Mambo, Basic Black
Ink pads: Pretty in Pink, Rich Razzleberry, Melon Mambo, Basic Black, Basic Grey. Versmark
Accessories: Polka Dot Ribbon, and Satin Ribbon, Brads, Crystals, Brayer, Matt Pack and Pricker tool.
Have you enjoyed todays creations, I hope so, now don't forget to cintinue the hop, you will miss loads more fabbi creations of you don't…. To continue Pop over to Karin HERE to see her wonderful blog and creations…
IF BY ANY CHANCE THE LINKS DO NOT WORK PLEASE LET ME KNOW….