Good Morning, hope everyone has woken to beautiful sunshine….
Have already been for a dog walk this morning to run some energy off Stamford norty little thing he is… whislt i were driving to reading and back yesterday he thought he might lunch on the chair of Pauls electric wheelchair, must have thought he were tucking into sponge and custard…. wouldn't mind winnie was looking after him allday she went out for an hour and came back to mayhem!! Poor thing… well of ta park we went and some pesky insect landed on his back and bit him, though he didn't cryhe was going round in circles to get it of, i managed to flick it off yellow it were, but poor Stan was all quiet after that, and didn't even create when we headed for the gate home, normally he tried to drag me back inside, bless him!!
Anyways onto today creation its sketch time over at Stamp with us this week, and boy i thought it were a hard one! Though have to admit i love the end result!!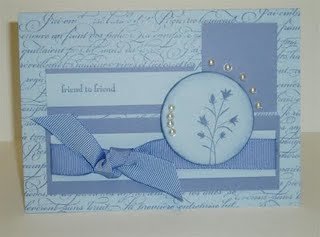 The stash I used:
Bashful blue, Brocade blue cardstock
Bashful Blue designer paper
Brocade Blue ink pad
Brocade Blue Grosgrain ribbon
Pocket Silhouettes stamp set
En Francias Background Stamp
Chipboard
Pearls from pretties kit
thankyou for visting…