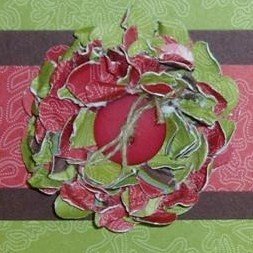 Hello all, isn't it hot again today!!, Hope you are enjoying your day, I have been sta in a car most of the day driving Paul to Marylebone station to catch a train to Wembley for the footies, It took me 3 hours to get home and its only an hour away in normal timescale, but why is it every summer hols, they decide to do roadworks in nearly every road in London… Phew!! It were very hot… Got ho9me for an hours kip and off I had to go again to pick them up!! Just got in, and thought I better share my Stamp with Us DT card!
The challenge at Stamp with this week is Christmas, so fairly easy allround…
For my card I used a scallop round punch and made a crimbo flower, this techinque was one I learned on my stamp with us craft weekend, isn't is gorgeous, you can learne this technique over at the Stamp with us on line classes, its not too late to join in there are PDF files to show you how to do it, and videos to on other great techinques….
Stash used
Best yet stamp set, hostess gift.
Holiday Treasure papers
Chocolate chip cardstock, ink pad
Earth element buttons
Linen thread
Scallop circle punch
Do pop over to Stamp with us, and see the fabulous creations the rest of my DT buddies have made…