Papertake weekly is on its 100th challenge, and all bar one of the original team are still here!! Well it's celebration time,
Because it's a special week, we don't have a sponsor as such, but we do have prizes. All the regular team girls have put together a giveaway, to say thank you to YOU for your support over the years – so next week instead of 1 winner there will be 6!!!
And we have some other good news – Nikki is back with us after her break.
Welcome back chick xxx
AND there are 2 brand new guest design girls and they are Jill and Katrina. Welcome to you both and I hope you enjoy your stay with us.
So what have we got for you this week? Well this really is up to you because there's a choice of 99 different challenges (yes, 99!!!) That's because you get to pick your favourite PTW challenge and re-do it (but obviously not the same card lol xxx).
Now onto the cards. I've included a pic of all the prizes as well and thank you to the team for putting their prizes together.
For my card I have used a challenge from 26 -1 -09 Sketch #7, I love sketches they help the creatives juices flowing…
All items on my card with the exception of the buttons, thread, copics and sentiment are from DIES TO DIE FOR, I have used Edward from the greetings farm, and coloured him with copics…. I am also giving away a bundle of goodies too!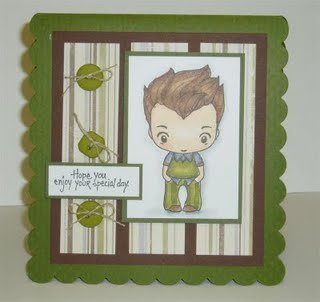 My goodie giveaway, includes fancy pants product chipboard flowers, and rubons….