With some serious RETAIL THERAPY! (elyzbells sneak peaks)
Well hello all its been a long time!! Blimey time has flown by, It's a rather stressy week for me, after classes and mag work, my little fella Stan, got hold of my craft bag and chewed it to bits and all that were in it including my Stamp with us DT card, oh no no time to make another!! I did one in th end but i think my mojo was zapped by my sadness of my dinkie craft bag and stash, My fabby elzybells hand made by fairy was amongst them , he chewed the stamp right off the wooden block, I was however able to salvage the rubber so will remount, but my ink pads and tombows nope! A brand new watercolour brush, now I had two one cost just over a ound and the other a fiver, Hmmm, what one does he chew, yep the fiver one, oh lordy not even used it only bought it last week.. Some of my Copics were in there too but he must have Known that would have been just too much for me to cope with!!
And all because i left him to go to dinner at my SIL, Oh my why oh why did I forget to put me bag away! I knew i should have put him in his little house, as earlier that day when i took Paul to club, he munched his way through SIX bags of wotsits, and he could not deny it and blame ickle tillie coz he had cheesy breath!!
Well on to my Sneak peak are you ready for some serous retail therapy oh I am thats for sure!!
I am so so excited about this release as Elizabeth has answered my many calls to design more Dinkies!! Oh I am in heaven I tell you, though on release day I am in there for the rest of the new designs, I just have to have them I need pampering I do really I do!!
For my cards, oh yep I have two to show you, I have used some superliocus design papers from Craftsulove with matching bazzill, My minds eye, pretty please range..
For my first card I have followed a sketch from Sketch and Stash, I have used new papers, and of course my new dinkies stamps,for my new stash!! I coloured this one in with primas and koh-i-noor pencils and OMS which the later two you can purchase from Elzybells….the sentiment is part of the dinkies set…. Everythingelse can be purchased from Craftsulove…
For my second card, I used the same papers, and a differnt dinkies Set, This time I coloured with copics and paper peiced her dress, Now I have this stamp in the larger size, But this dinlie s a real must for co ordingating, or those smaller cards, they are just so mega cute!! I made my card blank from nesties, do you likey…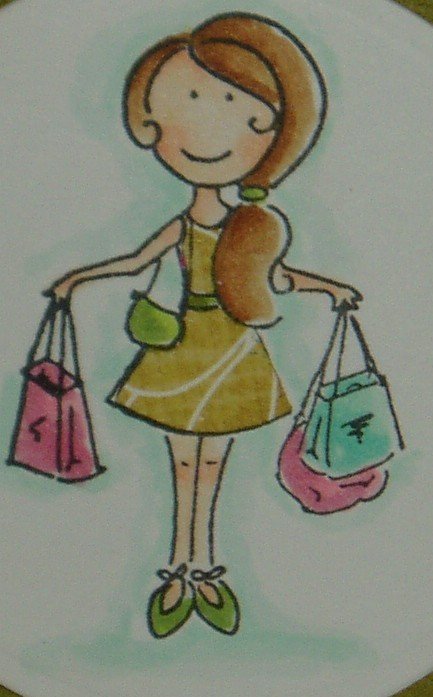 Please do pop over to Elizabeths Blog and the rest of th DT, Sooooo much inspiration going on, and of course more sneak peaks of the other designs, How can you afford to miss out!! Also dont forget my BLOG CANDY…. HERE