Oh my isn't there some fabulous Elzy creations going on, I have my wish list that longer than the river thames!!
Well today I am off to Brighton for the day with my Friend Shirley, We are cadging a lift from the Crockenhill W.I ladies, and travelling by coach, to spend the day wandering around the lanes!! Oh some me time i can't wait… well as you read i will be on me way…
I will leave you with Mechanic ted isn't he just the cutest…. I have done two simple card for todays sneak peak, The papers on the first one sooo go with this teddy it reminds me of tyre treads… and the fab brads look like screw heads, A little stash recipe below of all the products used…
Stash list:
Stamps:- Mechanic ted, sentiment from the new clear set, happy fathers day single
Colour medium:- Koh-i-noor pencils and OMS- Elzybells
Paper: Basic Grey
Cardstock: Smooth white Elzybells
Not quite navy & bashful blue stampin up
Brads woodware
Nesties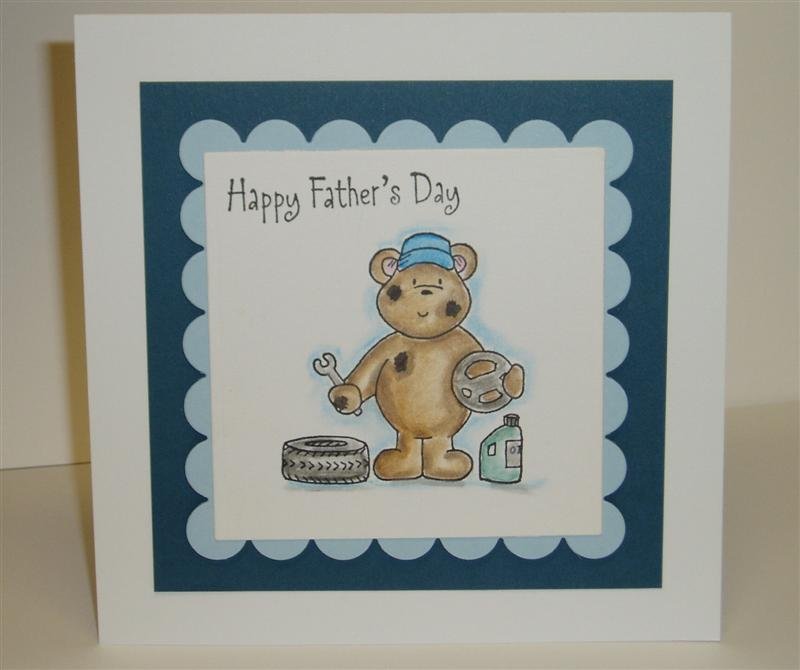 well release day is nearly here tommorrow infact, and don't forget the myself and the rest of the DT's will showing the last of the sneak peaks tommorrow!! So fly by before you buy!!