Hi all, sorry for not being around, have been rather poorly all week, with something called Globus!! I have had a felling of an obstruction in my throat for a good few weeks now, and Monday was the last straw, i have not been sleeping much due to the discomfort!! and the stress of it has caused bad excema?? on my left hand index finger… oh a right poorly state I am in… though wednesday was my worse day, i do feel much better now as I have seen another Dr, and he has given me what I need to put it right, so heres hoping itwon't be around for long!!
Anywas enough of me, here the Dare u 2 digi challenge that I should have put up yesterday!! The dare this week is to use Lilac and lemon, I have used Chris' Sweet pea digi, how gorgeous is this design!! you can get it HERE, Chris has some fantastic designs, do visit her blog for soem fabulous inspirations…
I also used Stampin up chalks combined with copics for colouring the flowers, and stampin up card stock almost amythest and so saffron, combined with basic grey paper! and a mini message from craftwork cards,,,,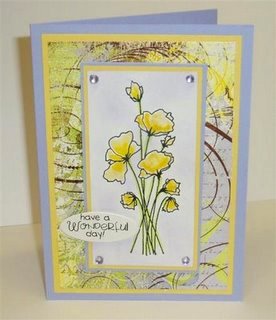 Please do pop back tommorrow for the SWU challenge, and I have some gorgeous Sally-Ann designs tp show you, also Anyas have arrived at Dies to die for , and they are just stunning!! Must have, so be quick and get ya order in!!