Todays post is all about girls, not sure why it just happened, and I have three cards for you today, Wow what happened to me..lol
First up is for the SCSC challenge, and the theme was set by Our Gorgeous Donna, it's a fabulous sketch with a colour theme of Chocolate and orange and a great challnege it is too, thankyou Donna…. I have used the ultra cute Libby from Grabadoodledo and gorgeous paper from Stampin up called sweet always, and the ribbon to match you can purchase them via me!! The sentiment is a rub on from pebs inc at craftsulove….
I aper pieced her dress by taping a small piece of patterned paper over where the image will print and run it through the printer as normal…
Next up is card with a technique I was dying to use, and could never master meself, but I perservered with the little help of my Heidi swap distresser tool that My good friend Sue gave me, Oh I just love the look don't you although it's not as good as some i have seen but it won't take long to get the hang of it… The papers are by october afternoon, I just lurve them, The image is another cute girlie from Grabadoodledo called Lizzie and she is coloured with copics….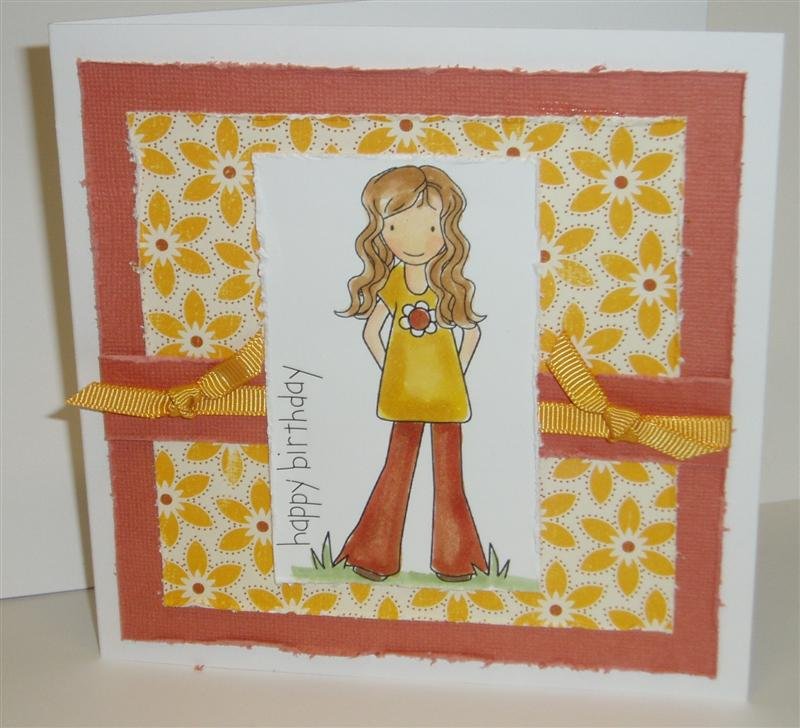 and finally for now, is another Grabadoodle girlie, I just love her she is called Polly and is from the Fun and Girly set 2… I used lush papers from Basic grey, spiral punch from Stampin up and sentiment from Lilli of the valley….
well what do you think, do you like….. Uber talented Sally-ann fromGrabadoodledo has a design team call on at the moment, and am I gutted I can't apply but you can , so why don't you go grab a doodle and show Sally-ann what ya can do!! Paul is off for the day footie so I am gonna play some more!! so watch out more cardies to come…. and from thursday next week some sneek peaks from another talented young lady at Elzybells….