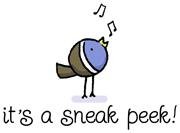 It's that time again, when you raid your piggy bank for the next lot of Elzybells releases, and do we have a critter or two for you!! You are in for a real treat, there are fabulous mini sets, terrific for the ever popular notelets…. and other such gorgeousness for you over the next four days…
Todays sneak peaks are simple, simple as , as simple is… A little notelet and gifty, Mmmm bag of peanut brittle, I am a greedy piglet, it were one in the bag one in me gob!! lol oh and it were nice… For this sneak peak I used two different sets, one the mini critters and on one of the treat bags sentiment from the mini tag set….
Now don't forget, well i know you won't, pop over to the rest of the Design teamscreations, plenty of inspiration for everyone…..
Please do let me know what you think, all comments much appreciated….