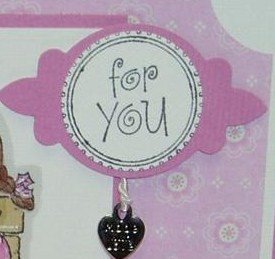 Mmmmm moved from green and reds to pinks!!! How has that happened…. lol
Well It's papertake weekly time again and the fabulously talented Dawny p has cpme up trumps again with this weeks sketch brief…. well done Dawny keep em coming girlie!!!
I have used my new magnolias from Craftsulove, and I Stamped the chair first, masked over it with post it note, blimey that was wearing I can say… couldn't quite get her on the chair, she looked like she were falling off, must get one of the stampamijigs thingies… was starting to wish that i had stamped her on her own and cut her out and plonked her on there but hey ho my last try and wolahhhh i don't think I did too bad do you!!… The papers I got from craftsulove too, imagineice very pretty ian't it… The sentiment is hero arts set, punched out and fixed onto a punchout of a brilliant woodware giant punch of tags shapes also from CUL… The cute ickle charm from cuddly buddly…
ENJOY!!!