OMG!!!!! I went to WH. Smith to pick up my copy of Simplycards and Papercrafts, Lol I picked up 3 copies, One for me , My Mum and friend Shirley, the lady at counter said oh you have three of the same, what's so good in there then…
******* ME******
I proudly said..lol how sad am I ….. well I took meself off to Nando's to celebrate with a big giant chicken lunch….. and then recieved a lovely text from Yamsi Sue, thanks Sue that made my day!!!!
Well I am not sure if I am supposed to stick the pages on me blog, but will anyhows…. Now they may not be to everyones taste but am sure there will be at least one card that everyone likes, and please remember they are free papers and sentiments that I had to use….. I thought this months papers were infact quite pretty colours and thye were certainly easy to use…
Right with out futher ado here goes, ohh and I shall give ya a preview of next months lot as they have shown one card as a preview….
Awwwwww!!!!! noooooooo whats happening with logger I can't attach the photis, now don't go away or if ya have to come back soon I shall keep trying…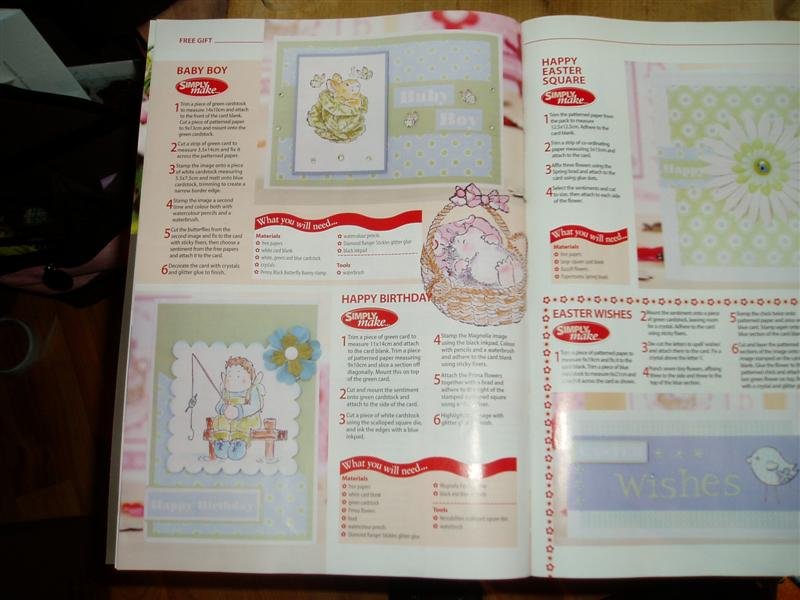 And here is a preview of next months issue with my masterclass commission…