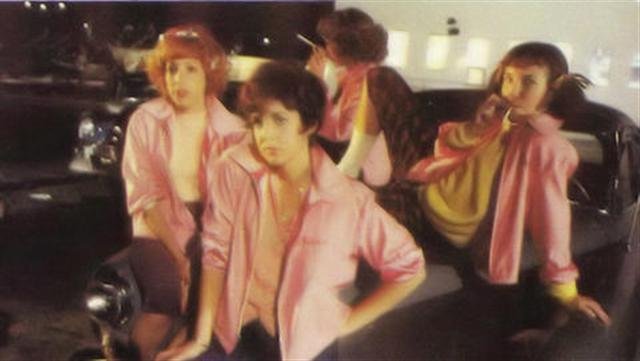 Look at me, I'm Sandra Dee, lousy with virginity
Won't go to bed till I'm legally wed, I can't, I'm Sandra Dee
Watch it, hey, I'm Doris Day, I was not brought up that way
Won't come across, even Rock
Hudson lost his heart to Doris Day
I don't drink or swear, I won't rat my hair,
I get ill from one cigarette
Keep your filthy paws off my silky drawers.
Would you pull that crap with Annette?
As for you, Troy Donahue, I know what you wanna do
You got your crust, I'm no object of lust,
I'm just plain Sandra Dee Elvis,
Elvis, let me be, keep that pelvis far from me
Just keep your cool, now you're starting to drool
Hey, fungu, I'm Sandra Dee……..
Now which of the Pink ladies did you want to be ?????
Rizo, Frenchie, Marty, Jan or just plain ole Sandra Dee….. oh what memories of dancing in front of the wardrobe mirror with Brush in hand singing at the top of me voice to Grease!!!! Ohhhh those were the days…….
Anyhow Caz set me another challenge, well she slung my challenge to her right back at me, … you wicked woman you!!!!
To make a card using Magnolia stamp, and not using background papers to make my own, well the Magnolia stamp I chose was Tilda ain't she just fab, a little rockin Tilda, and she went very well with a set of rubber stamps I bought at allie pallie Pink cat studio's Retro 50's stamps, what a fabby set too…..
Well enough gabble here is my card, hope you likey!!!! Click on piccie to get a closer look….